Local
Salmonella outbreak includes 7 people from Mass.
The CDC reports the outbreak's source has not been determined yet.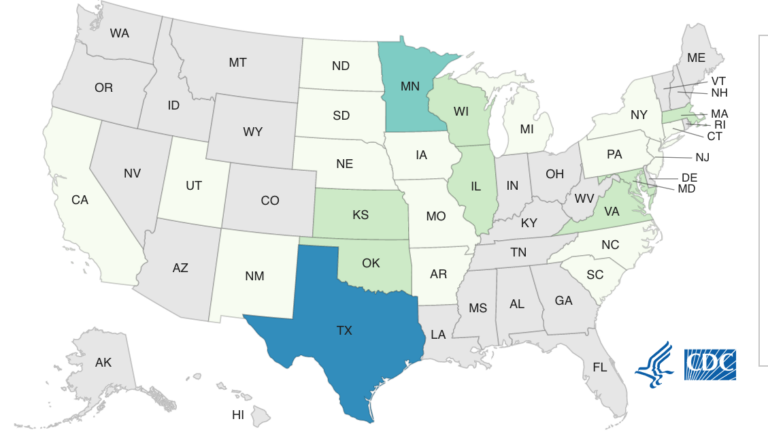 Seven people in Massachusetts have been infected with Salmonella as part of a multi-state outbreak, according to the Centers for Disease Control.
The CDC reports that 127 people across 25 states have become infected with Salmonella between Aug. 3 and Sept. 15. The outbreak's source has not been determined yet and the CDC is actively investigating the outbreak.
Eighteen people have been hospitalized and there have been no reported deaths out of 49 people.
The other 24 states include Texas, Minnesota, Wisconsin, Illinois, Kansas, Oklahoma, Virginia, Maryland, California, Utah, New Mexico, North Dakota, South Dakota, Nebraska, Iowa, Missouri, Arkansas, Michigan, New York, Pennsylvania, Connecticut, New Jersey, North Carolina and South Carolina.
The CDC said it can take roughly three to four weeks to determine if someone is part of an outbreak, so some cases may not be included in the data yet.
They also reported that many people do not need medical attention and don't get tested for salmonella, so the actual numbers are likely much higher.
While one food source has not been identified, the CDC said they have found restaurant "subclusters" — groups of people infected who do not know each other but ate at the same restaurant.
The CDC reported state and local officials are interviewing people about what they ate during the week before becoming sick to try and locate a source.
Symptoms of salmonella include fever, diarrhea, and stomach cramps between six hours and six days after ingesting the bacteria. Most people recover between four and seven days.
Newsletter Signup
Stay up to date on all the latest news from Boston.com