Local
'Police must be better': Local chiefs, departments react to killing of George Floyd
As protests continue, many local law enforcement leaders are voicing their condemnation of the circumstances behind Floyd's death.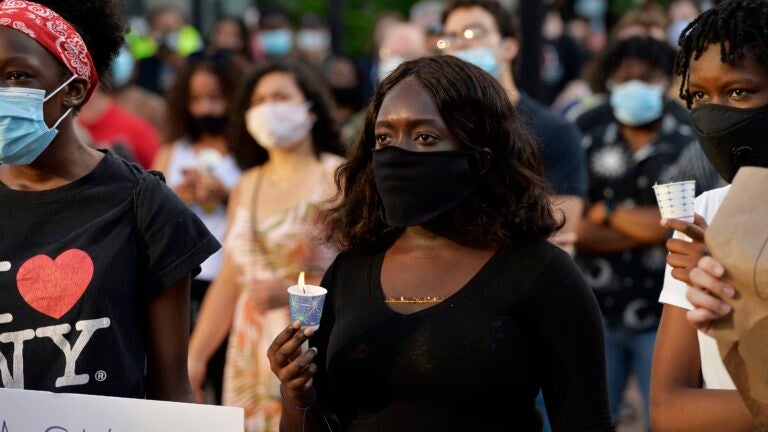 Demonstrations have captivated the U.S. as people take to the streets to protest against the killing of George Floyd, a Black man who died in police custody on May 25 after being pinned at the neck under the knee of a white police officer. As the movement rises, myriad local law enforcement leaders are voicing their stances against Floyd's death.
The Massachusetts Chiefs of Police Association, which represents police chiefs in 351 cities, towns, and most college campuses, tweeted that they denounce the actions taken by the four members of the Minneapolis Police Department — one of whom, Derek Chauvin, has since been charged with Floyd's murder.
"Our Massachusetts Police Officers have thoroughly embraced the six pillars of the principles embodied in the final report of the President's Task Force on 21st Century Policing, and remain committed to professional conduct, democratic policing and procedural justice for all people," the association said. 
The Massachusetts Chiefs of Police Association, representing Police Chiefs in all 351 cities and towns and most college campuses, denounces the egregious actions taken by four members of the Minneapolis Police Department, whether by action or inaction, that resulted in the

— MCOPA (@MAPOLICECHIEFS) May 29, 2020
Boston Police Commissioner William Gross called Floyd's death a "horrendous, cowardly act" during a vigil in Floyd's memory. 
"We should not, ourselves, our children, and our seniors that paved the way, ever have to view a video like we did that emanated from Minneapolis," Gross said. "As an officer knelt on Mr. Floyd's neck until he was calling out his mother's name — that is not the way we police. That is not the way we're going to police, and if we run into any incidents like that we will handle it."
My sympathy and condolences to the family of George Floyd who died after an encounter with Minneapolis Police Officers. I support the decision of Minneapolis Police Chief Medaria Arradondo to terminate the four officers involved. Mr. Floyd's death is a damned SHAME! God Bless him

— Commissioner William Gross (@BPDPCGross) May 28, 2020
Many local police departments and towns across the commonwealth have issued statements of their own, standing with the public and denouncing Floyd's death. 
Here's a look at what some department and town leaders said:
Arlington
Town leaders said in a statement Friday that this is the time for a dialogue, no matter how painful it may be.
"The actions of the Minneapolis police officers leading to the death of George Floyd represent at the very least a staggering departure from the training standards of a professional peace officer whose badge represents a commitment to protect life," Chief Juliann Flaherty said. "The behavior of these officers — whether by action or inaction — constitute a failure resulting in the ultimate cost in the loss of life. I condemn these acts in the strongest possible terms."
Brookline
Chief Andy Lipson said in a Facebook post Friday that while he normally wouldn't comment on officers' actions beyond his agency, "the murder of George Floyd at the hands of former police officers in Minneapolis is different."
"Minneapolis Police Headquarters is nearly 1400 miles from Brookline, Massachusetts but we understand that the effects of this incident are felt by all of us as if it happened in Brookline," Lipson wrote in the post. "We understand that these events tarnish the badge worn proudly and with integrity by so many. These actions undermine public faith in police officers everywhere. It is painful and tears at the fabric of our relationships with minority communities."
He said his officers are specifically trained not to put pressure on a possible suspect's neck or throat, and to move a person in custody that's lying face down to a recovery position. 
"We can't change what happened in Minneapolis," Lipson said. "We can promise that we have been continuously learning, training and engaging in best practices to make sure we deliver the most professional police services to the citizens we serve."
Cambridge
The Cambridge Police Department took to Facebook Saturday to answer a slew of community members' questions, ranging from how officers are trained, police culture, policies, procedures, and how to prevent incidents like the one that unfurled in Minneapolis. 
"As the nation processes, mourns and endures the trauma associated with the tragic death of George Floyd, we have been listening and addressing questions from concerned community members," the department said. 
Among many comments about the trainings Cambridge police officers undergo, the department explained its brand-new Office of Procedural Justice, which will monitor data surrounding police-citizen interactions for indications of possible racial profiling or racially-biased policing, and hold officers accountable. 
Chelmsford
Police Chief James M. Spinney said Saturday that the methods used by Minneapolis police are inconsistent with modern law enforcement best practices. 
"Police officers must, at all times, act with the protection and defense of life in mind. To depart from that mantra is to depart from the oath of a law enforcement officer," Spinney said in a statement. "Criminal suspects in our care and custody enjoy the presumption of innocence and remain members of our society. We are all human beings. Too many people have forgotten that the real purpose of the criminal justice system is to heal wounds, not cause them."
Dedham
Town leaders said Friday that they "join in the collective mourning that is being felt across the country this week" as a result of Floyd's death. 
"As police officers, no matter where you are in the country, or the world for that matter, our mantra is to save lives and protect those that we are sworn to serve. That includes the lives of those that we are detaining or placing under arrest, who are presumed innocent until proven guilty in a court of law," Chief Michael D'Entremont said in a statement. "The actions taken by Minneapolis police officers in the death of George Floyd should be condemned and in no way represent the hundreds of thousands of police officers that put on their uniforms every day across the country to do their jobs with the utmost integrity and professionalism, including the members of the Dedham Police Department."
Dedham leaders called for a dialogue, adding that while they "decry the serious injustice that has taken place, violent protests including the burning of the police station in Minneapolis overnight Thursday must also be denounced."
Dennis 
Chief of Police Peter DiMatteo echoed his full support of the Mass. Chiefs of Police Association's statement on Facebook Friday. 
"What happened to Mr. Floyd on May 25th in Minneapolis in no way reflects the values of professional policing that our department strives to provide at all times," he said in the post. 
Easton
Chief Gary F. Sullivan said in a statement Sunday that Minneapolis police failed to uphold the core mission of policing to protect life.
"The killing of George Floyd sickens me, as it sickens all good police officers who have chosen a profession where the protection and safeguarding of life, and putting the lives of others ahead of our own, is paramount," Sullivan said. "I denounce the actions of these police officers and am mindful that the actions of a few reflect not only on the many but also reflect on the failings of the system."
He added that the methods used in Minneapolis that killed Floyd are not used in Easton. 
"All persons — those who call for help and those suspected of breaking the law — are to be treated like human beings," Sullivan said. "The women and men of the Easton Police Department are mindful that we are only effective as a public safety organization if we have the faith and support of our citizens. We will work every day to gain and maintain that trust."
Fairfield
Alongside local clergy, Chief Christopher Lyddy strongly denounced the actions that led to Floyd's death. 
"Our task as police officers is to protect and preserve lives at all costs," Lyddy said in a statement Saturday. "That sacred trust that the community has placed in us has been broken in Minneapolis and the repercussions and ramifications will have a ripple effect across the country. The department stands alongside local clergy members in the decrying of this senseless and serious injustice that has taken place."
Lowell 
Superintendent of Police Raymond Kelly Richardson said in a Facebook post Saturday that the Lowell Police Department stands with the public in denouncing the actions and inaction of the officers involved in Floyd's death.
"This incident undermines and threatens to tarnish the hard work of officers who work daily to build the trust of the public and partner with the community to ensure public safety," Richardson wrote."We strive to work with our community to reduce the incidence and fear of crime, and to ensure public safety."
Methuen
Mayor Neil Perry and Police Chief Joseph Solomon condemned the Minneapolis police officers in a statement Saturday, adding how their actions have shaken the country. 
"In Massachusetts, our officers are trained not to apply pressure to the neck or throat and to never place a suspect on their face," Solomon said. "These practices have been shown prior to Minneapolis to risk tragic results and they have resulted in the loss of human life before this most recent tragedy."
Natick
Having been a police officer for over 30 years, Chief James Hicks said Floyd's death has left him saddened and angry. 
"There are standards that we as police officers embrace – we live in the 21st Century and our policing practice must mirror our recognition of equality of all races and cultures through the lens of Procedural Justice," Hicks said in a statement posted to Facebook Saturday. "As the Chief of Police for the Town of Natick I can say without doubt or hesitation that every member of this department is appalled and angry as to what they saw in Minneapolis. The members of the Natick Police Department are trained and re-trained each year to prevent any type of incident to get to that level."
Hicks added that his department understands "the difficult role that we play in the complex society in which we live today," and will strive to make the community better every day. 
Reading
Chief David Clark said in a statement Saturday that he condemns the actions of the four Minneapolis police officers, noting that when officers take an oath to defend human life, it's "incumbent upon every police department to ensure its members are trained in the safest and most modern and appropriate tactics." 
"The actions and inaction of police officers, leading to the death of a man in their custody, shows failure at multiple levels, but most importantly, a failure in the most vital and solemn vocation of a police officer: to safeguard human life and instill a sense of safety in their community," Clark said. "These actions stand in stark contrast to the standard that the vast majority of law enforcement agencies, including the Reading Police Department, work to uphold every day."
Stow
"We must never forget that police officers are supposed to be lifesavers not life-takers and that any use of force against another human being must be measured against the immediate danger to all people involved," Acting Stow Police Chief Michael Sallese said in a statement Sunday. "The death of George Floyd is a tragedy, made all the more upsetting by the fact that it was clearly the result of police actions that reflect either woefully inadequate training or willful misconduct resulting in the loss of human life. This is not acceptable. Police must be better."
A Stow native, Sallese said members of his department will continue to approach their job "with the fact in mind that they will be held to a high standard by the members of the community."
Worcester  
As Chief Steven M. Sargent reads the news from Minnesota, he said he's filled with "heartbreak, anger, disgust and profound disappointment."
Sargent continues in a statement released by his department Saturday, calling the actions of the officers in Minnesota unacceptable.
"It is a disgusting abuse of power and a disregard for human life," he said. "Although this tragic event happened thousands of miles away, it has the potential to impact us here and damage the relationships that we have built. I don't want this dark moment in time to tarnish the reputation of all police officers or undermine the hard work of the men and women of the Worcester Police Department."
He added that now is the time to work with the community and make strong, positive connections between officers and Worcester's neighborhoods. 
"We do not want to take a step back or slow down our progress," Sargent said. "There is more work to be done and together through teamwork we can solve problems and prevent any issues from reoccurring."