COVID
In an 'invisible' crisis due to omicron, Massachusetts hospitals release urgent plea to the public
"As scary as things may have been for providers in the early days of COVID, things are now much worse."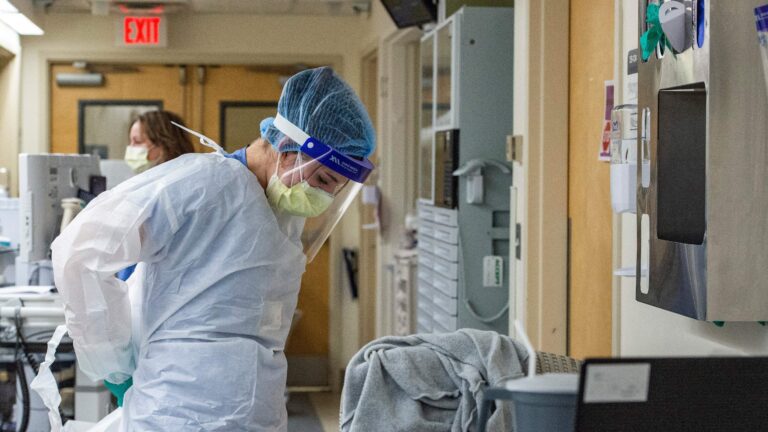 Massachusetts hospitals say they're in an "invisible" crisis as the still-rising number of COVID-19 patients from the massive omicron surge pile up on a healthcare system that is already short-staffed and nearing capacity.
And they're afraid that the public isn't even noticing.
While some indicators suggest Massachusetts may be coming down from the unprecedented peak of infections caused by the omicron variant, statewide COVID-19 hospitalizations are still spiking. As of Thursday, the number had reached 3,180, its highest since the first surge in spring of 2020, with no signs of slowing soon.
In a statement released Friday by the Massachusetts Health and Hospital Association, hospital leaders said that "every corner of our healthcare system is gasping for air."
"We have never been more fearful for what is to come if things aren't turned around quickly," the statement said.
Already, hospitals have been ordered to postpone elective procedures, and some patients have died waiting to get into filled-up intensive care units.
Despite the state's high vaccination rate, the increase in COVID-19 hospitalizations — disproportionately among unvaccinated residents — comes as hospitals also struggle with staffing shortages exacerbated by the pandemic that officials say have resulted in the effective loss of 700 hospital beds.
"This surge is different," said Dr. Eric Dickson, the president and CEO of UMass Memorial Healthcare and chair of the MHA's Board of Trustees.
"As scary as things may have been for providers in the early days of COVID, things are now much worse," Dickson said. "COVID-19 admissions have spiked by almost 250% since Thanksgiving, the ranks of the healthcare workforce have been depleted, and beds are filled with patients who are sicker than before."
According to state data, 94 percent of Massachusetts hospital beds are filled, including over 95 percent in the Boston area and 99 percent in the northeastern part of the state.
"Our healthcare community would not be sounding the alarm unless circumstances were so critical," said Christine Schuster, the president & CEO of Emerson Hospital. "To our community members: now is the time to act."
Noting that exhausted healthcare workers have been demoralized to "see their sacrifices met with unmasked individuals in supermarkets and other places where Omicron can easily be spread," the group asked the public for four actions:
Masking at all times when in public;
Avoiding emergency rooms for routine testing or for mild COVID-19 symptoms;
Getting vaccinated right away and boosted as soon as you are eligible;
Providing support and gratitude to the healthcare workers in your life.
"This is what it will take for Massachusetts hospitals to avoid the worst possible scenarios in the very near future," said Michael Dandorph, the president and CEO of Wellforce, adding that officials' efforts need to be "supported by public action."
"We understand that this crisis may be invisible to most, but the reality is that this is everyone's problem," said Dr. Mark Keroack, the president & CEO of Baystate Health. "We fear that people will not grasp the magnitude of this situation until they are the ones in need of care and bear witness to it up-close."
Newsletter Signup
Stay up to date on all the latest news from Boston.com