Coronavirus
The state police union is raising fears about Charlie Baker's vaccine order. Baker isn't moved.
"The Administration does not anticipate any significant staffing shortages in the immediate future."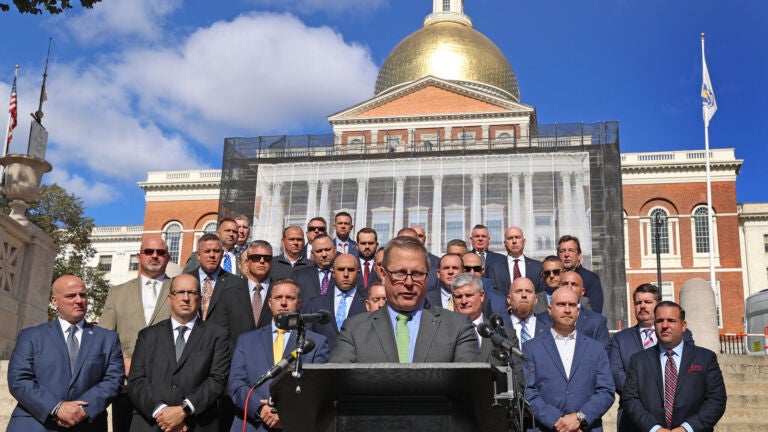 Leaders of the union for rank-and-file Massachusetts State Police officers say Gov. Charlie Baker's order requiring state workers to get the COVID-19 vaccine or potentially lose their job could result in a dangerous staffing shortage.
Hours after the deadline to comply with the mandate passed Sunday, members of the State Police Association of Massachusetts and other regional troopers' unions gathered Monday outside the State House in Boston to criticize Baker's "lack of fundamental fairness" and raise the specter of his order's feared impacts.
SPAM President Michael Cherven suggested that the COVID-19 vaccine requirement — which includes escalating discipline up to termination for state workers who don't comply — would send the state's homicide conviction rate tumbling, as officers are shifted around to fill in the holes.
"When you're pulling detectives out of their roles and putting them in uniform, what do you say to the families?" Cherven told reporters Monday.
"It's atrocious," he added.
Baker, however, isn't too worried.
For starters, the administration said Monday that no one has been pulled off the job quite yet for not complying with the order.
Unless notified otherwise, all state workers were instructed to report to work as usual Monday, officials said. And the vast majority — 95.2 percent — of the roughly 42,000 state workers affected by the vaccine requirement have already completed the required attestation form or applied for an exemption.
More than 90 percent of the roughly 2,000 state police employees have also submitted the required forms, according to the Baker administration.
"In the coming days, the Administration will work with the small number of employees not in compliance and implement progressive discipline if necessary," Baker spokesman Terry MacCormack said in a statement. "At this time, the Administration does not anticipate any significant staffing shortages in the immediate future."
MacCormack's statement comes after Baker activated up to 250 National Guard members last week to potentially fill Department of Correction positions, after the state's prison guard unions said around 1,500 members were not in compliance.
SPAM — which unsuccessfully sued to delay the mandate's deadline — contends that hundreds of troopers could also be affected. According to Cherven, almost 85 percent of his union's membership is vaccinated. That leaves 299 unvaccinated, 200 of which have applied for a religious or medical exemption. Cherven said 186 of those exemption requests were based on religious grounds (some lawmakers have pushed to eliminate religious vaccine exemptions, amid evidence that they're often used as cover for non-religious personal preferences).
Cherven argued that the state police force is already understaffed, pointing to a UMass study that said it should have 2,600 troopers to fulfill its current missions. He said the department was not scrambling to prepare for the mandate's wake.
"All time off has been canceled," he said. "Every detective and every trooper has been told, 'Make sure your uniform is with you. Be prepared to be deployed to cover basic services for 911 and road duties.' That is an order that was put out by [State Police Colonel Christopher Mason] last week."
During the press conference, Cherven blasted the Baker administration for not responding to exemption requests, though those who have submitted the forms do not face immediate punishment. State officials are working through them on a rolling basis and workers who submitted an exemption request are — for now — considered in compliance with the mandate.
According to Baker's administration, each state agency's human resources team will be reaching out to those who have not submitted an attestation form in the coming days to determine their vaccination or exemption status.
According to the administration, 1,571 employees submitted neither an attestation form or an exemption request.
Union members who refuse to comply with Baker's order, which was announced on Aug. 19, will first face a five-day suspension without pay, followed by an additional 10-day suspension without pay for continued noncompliance. After that, failure to comply will result in the termination of employment, officials say.
Non-union managers who don't comply face a five-day suspension followed by termination.
In both his union's lawsuit and on Monday, Cherven has framed the debate as a labor rights issue, saying he wants to keep his members "employed and safe."
"I'm vaccinated," he said. "My entire executive board is vaccinated. We believe in this. However, there's some that have some legitimate, reasonable concerns and we just want to keep them employed."
Outside of the exemption requests, he pointed to the example of a married couple on the force that was seven months into a pregnancy — after they "struggled for years to become pregnant" — and wanted to hold off on getting the vaccine after they had given birth to a child or two (there's no evidence that the COVID-19 vaccines cause fertility problems).
"We are pro-vaccination," Cherven said. "We just are also pro-labor."
Newsletter Signup
Stay up to date on all the latest news from Boston.com