COVID
Mass. reports 4,034 new breakthrough cases this week
There have been another 45 deaths among vaccinated individuals.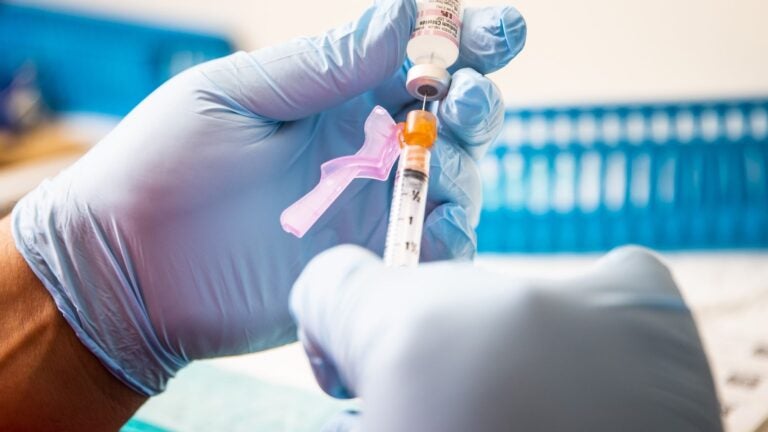 Though the number of new breakthrough cases had been dropping for a couple weeks, there were 300 more breakthrough cases of COVID-19 in vaccinated individuals this week than last week.
The state released updated data Tuesday on the number of COVID-19 cases, hospitalizations, and deaths among vaccinated individuals in Massachusetts. There have been a total of 44,498 breakthrough cases of COVID-19 as of Oct. 9, an increase of 4,034 from Oct. 2. Between Sept. 25 and Oct. 2, 3,741 breakthrough cases were reported, so 293 more breakthrough cases were reported this week.
There were 4,660,716 people vaccinated as of Oct. 9, meaning 0.95% reported a breakthrough case of COVID-19. The rate has been steadily increasing — it was 0.23% on Aug. 7.
Though this reflects the overall trend of how many vaccinated people are reporting cases, it's easier to understand on a week-by-week level. So, for example, how many of the new cases reported this week were breakthrough cases.
Between Oct. 3 and 9, 8,767 people tested positive for COVID-19 (about 150 less than last week, and continuing a downward trend). The same week, 4,034 breakthrough cases were reported, meaning 46% of COVID-19 cases in that period were breakthrough infections. The week before that, 42% of COVID-19 cases were breakthrough cases.
"Even if you have a highly effective vaccine, if you have high community prevalence of an infectious agent, you're going to see a substantial number of cases in the vaccinated," Dr. Daniel Kuritzkes, who heads the Division of Infectious Diseases at Brigham and Women's Hospital, told The Boston Globe in August.
Hospitalizations and deaths are also increasing but at a much lower rate. Tuesday's data showed a total of 1,428 hospitalizations and 345 deaths, an increase of 148 and 45 respectively from Oct. 2. Out of vaccinated individuals, 0.03% have been hospitalized and 0.007% have died. According to the data, 3.21% of breakthrough cases resulted in hospitalization and 0.78% resulted in death.
As of Sept. 25, the median age of fully vaccinated individuals in Massachusetts who died from COVID-19 was 82.3, the Boston Herald reported. State data shows 71% of breakthrough deaths were individuals with underlying conditions that made them more vulnerable.
Last month, Massachusetts made COVID-19 booster shots available to those who had gotten the Pfizer vaccine and were either over the age of 65, had an underlying health condition, or faced an increased risk of getting the disease because of their job.
"These are really vulnerable groups who we need to protect," Davidson Hamer, a Boston University specialist in infectious diseases, told the Herald. "Those who are older and people with certain medical conditions should get boosted over the next month if they can."
Newsletter Signup
Stay up to date on all the latest news from Boston.com