COVID
Cluster of COVID-19 cases connected to Provincetown rises to 256
"Case investigation is ongoing, including the vaccination status of individuals."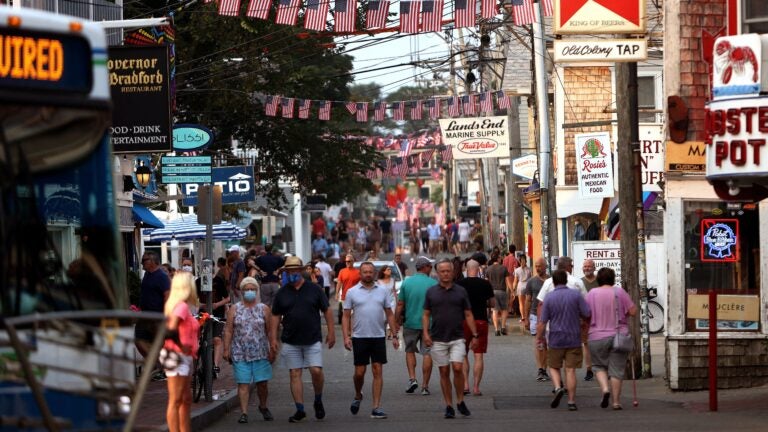 The number of confirmed COVID-19 cases linked to a spike in Provincetown is continuing to rise.
Town Manager Alex Morse announced that as of Tuesday, 256 positive cases associated with the Cape Cod town had been confirmed, up from 132 reported to state officials three days before.
Of the 256 cases, 190 are in Massachusetts residents, 109 of whom live in Barnstable County.
"The remainder of individuals who tested positive reside in other states or jurisdictions outside of Massachusetts," Morse said in a statement on Wednesday. "Case investigation is ongoing, including the vaccination status of individuals."
Provincetown health officials announced a new face covering advisory Monday in response to the growing outbreak, which includes individuals who were fully vaccinated. The town is asking all individuals, even if they are vaccinated, to wear masks indoors where social distancing can't be achieved.
Unvaccinated individuals, including kids under the age of 12, are required to wear masks indoors and in crowded outdoor areas where social distancing is not possible.
Gov. Charlie Baker repealed the statewide mask mandate on May 29, but face coverings are still required for all individuals on public transit and in taxis, ride shares, health care facilities, and certain congregate care settings.
As it continues working to contain the spike in cases, Provincetown is offering free daily testing and vaccinations through at least July 30.
According to Morse, more than 3,000 tests have been administered in Provincetown since July 1.
"Anyone experiencing even mild symptoms should get tested, as well as anyone who has had a close contact with an individual who has tested positive for COVID-19," he said. "Testing is encouraged regardless of vaccination status."
Free, walk-up testing is being offered daily at the Veterans Memorial Community Center parking lot between 10 a.m.-3 p.m. Free vaccines are also being offered daily at the testing site, with no appointment or ID needed.
Tests and vaccines are also available at the Outer Cape Health Services location in Provincetown.
"Public health officials continue to stress the importance of vaccination and have ramped up efforts to reach any unvaccinated individuals who live in or visit Provincetown," Morse said. "So far in July, 90 individuals have been vaccinated in Provincetown at either the Veterans Memorial site or Outer Cape Health Services' Provincetown Health Center. … Provincetown has among the highest vaccination rates in the Commonwealth, with nearly all residents age 12 and older fully vaccinated. Vaccination remains our strongest defense in preventing serious illness, hospitalization, and death from COVID-19."
Provincetown isn't the only part of the state that is seeing a rise in cases. Trends across the state are on the upswing, but Baker has stressed that the increase is "very small" and that the statewide hospitalizations and deaths due to COVID-19 remain low.