Cars
A vintage 1967 amphibious car is for sale in New Hampshire for $65,000
The 1967 Amphicar 770 is being sold on Facebook Marketplace.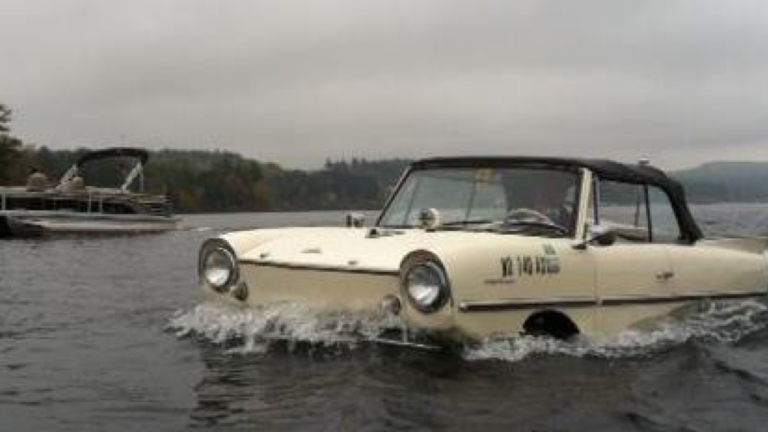 You ever ride a Duck Boat into the Charles River and think, "Hey, I'd love to have one of these to myself"?
Now you can: A 1967 Amphicar 770, a (you guessed it) amphibious car produced in Germany, is being sold by one Mike Wagstaff of Pelham, New Hampshire on Facebook Marketplace for $65,000.
Sure, you can get a new Mercedes-Benz coupe for the same price, but can you drive a Mercedes-Benz coupe onto a lake without drowning?
Wagstaff, who ran an automotive garage in Wilmington until it closed some years ago, says in the listing that the Amphicar only has around 3500 miles and that it "runs and cruises in the water great."
The offer seems to be legit — Wagstaff and his novelty vehicle were featured in a 2013 Eagle-Tribune article and a WMUR segment on "wicked cool boats" in 2018.
Wagstaff, who has apparently owned at least seven Amphicars, has piloted them onto the Merrimack River and Lake Winnipesaukee in New Hampshire, according to the Eagle-Tribune article.
"They're great boats on the street, and great cars in the water. They're not fantastic either way," he said in the WMUR segment. "But they're good, they're still a lot of fun to have."
The Amphicar 770 — named as such for its water speed of 7 knots and its land speed of 70 mph — is "basically… a boat with wheels sticking out of it," as the International Amphicar Owners Club describes it. It has a complete hull and two doors that form watertight seals with the help of a crank. Put the land transmission's stick shift into neutral in the water, start the dual propellers of the water transmission with a separate stick shift, and you're ready to putter around. Just don't try to use the land brakes.
The Amphicar was made in Germany from 1961 to 1968, with less than 4,000 produced. Most were imported to the United States. EPA regulations in 1968 tanked business, plummeting sales by 90%, and production soon closed for good. Around 600 are reportedly in good working condition today.
Get Boston.com's browser alerts:
Enable breaking news notifications straight to your internet browser.