Restaurants
Gordon Ramsay loves New England's lobster roll politics
Technically, the star chef 'f****** loves' the debate.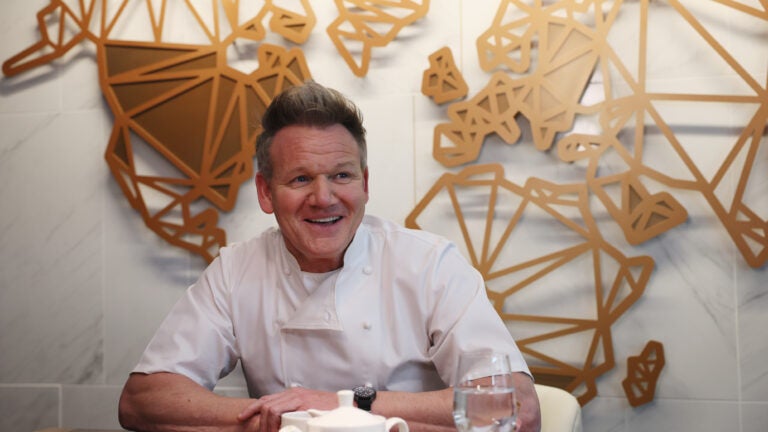 Gordon Ramsay's newest restaurant has officially taken up residence in the Mandarin Oriental on Boylston Street.
Ramsay's Kitchen, which opened Jan. 24, combines some of the chef's most popular dishes, drawing inspiration from local ingredients as well as cuisine from around the world.
Ramsay is an internationally renowned, multi-Michelin-starred chef with a string of restaurants around the world and several well-known TV shows, including Hell's Kitchen. In an interview with Boston.com earlier this week, Ramsay shared why Boston is the destination for his latest project, the challenges of opening a restaurant during the pandemic, and yes, he weighed in on the region's hot or cold lobster roll debate.
This interview has been lightly edited.
What was the appeal of opening a restaurant in New England? How did it play into the menu and other elements of Ramsay's Kitchen?
I've always been a big fan of Boston, and we share a lot of similarities — London, Boston, Glasgow — the heritage stems off the shellfish. I grew up on the west coast of Scotland, having access to scallops, oysters, and lobsters. I first came here in 2005, and I was just blown away with, in many ways, how real and robust the city is. It's loud and proud, but it doesn't seem over the top in a way. It doesn't try to make itself look and feel so special because it's evident clearly on the ground. It doesn't have to try very hard to be beautiful.
I went to ROW 34 [Sunday] night for a late night dinner, and it was just exceptional. I see what's going on with the docks and what's happening with that side of the city and the sort of evolution that's taking place there.
[I've] been a big, big, big fan of Boston, and I'm so happy to be here. The most important reason for me is going to come down to the ingredients. … Boston has that, through and through.
What elements of the Northeast and Boston did you draw inspiration from for the menu?
Mainly the fish. From our fish and chips to [seared] scallops, from Maine, the lobster is second to none. I don't think there's any other areas in the country currently [where] we can go and get such an array of oysters at this time of year, so that's very seasonal here.
We're fish heavy, for obvious reasons, and then we've got a few classics from the beautiful bouillabaisse — we've done a classic Mediterranean Marseille type bouillabaisse, but done with Boston seafood, so it's beautiful. I mean, it really is beautiful and breathtaking.
I love the politics. Everyone's worried about the politics behind the lobster roll. I f****** love it. I absolutely adore that stuff because they're both winners, and it depends on what you want. And so, Connecticut can go down the slow poaching butter route and Boston will go down the mayonnaise route. It's just fascinating listening and delving into the politics over a freaking lobster roll, for God's sake, what the hell?
The Mandarin Oriental is very well known and respected, and the restaurant space used to house Bar Boulud, headed by chef Daniel Boulud. How did you settle on this location?
I'm a massive supporter of Daniel Boulud. He's a world-renowned chef, and sometimes things don't work, and it's to the fortune of the next person coming in. This is a properly set-up and developed business. Sometimes you see chefs and hotels as a sort of label slap, but we are a fundamental partner with a hotel and we've got a beautiful design … with the beautiful blues and the creams and swaying toward the ocean. There's ornaments and statues in the dining room, the bar that will lead to the sort of beautiful bridge, and the historic-ness of the brick work relating to the history of Boston. So we tried to captivate that.
I think it's really important to not shoot too high, in a way you want to become too destination, in a way that is too highbrow. Bostonians are going to be uncomfortable with that. Blending into the community was something that was absolutely paramount.
[There were a] couple of noises about is this the right time to invest? We've just had the most devastating two years in the entire industry ever. We've seen crashes with stock markets and high interest levels, but nothing's quite hit the industry like the pandemic has in the last few years. So now's the time to bounce back.
What challenges has the pandemic brought in trying to open this restaurant?
First of all, I love a challenge. I think the supply issue in terms of materials and getting the dining room the way we wanted it … It's just sumptuous. We haven't got 250 seats, it's 130 seats here, so it's quite small in comparison to many restaurants, but it captures Boston.
I delayed the opening to make sure that we're ready when we kick off because it's instant and there's a big demand. We've closed the book and we're running sort of 60 to 70% — we don't want to open the doors and flood the place. It has been incredible, and the response has been impeccable, but that just keeps us on our toes and I'm just happy to be here. … We've got just under 200 staff here, new jobs, new careers, new excitement, and everything we wanted from the industry is back.
This restaurant is the first of a new concept. What inspired this Ramsay's Kitchen, which marries a lot of your classic dishes with dishes from around the world? How did you get to this idea?
I think the idea was primarily a nod to everything I've learned. Every time I go on "Uncharted" and I get placed in some of the most obscure countries from Tasmania, to the middle of Machu Picchu in Peru, the mountains in Indonesia, I'm absolutely affected by what I've learned and crafted. Of course we're going to keep it local, but it becomes so much easier when the quality of produce is what it is. So I suppose the inspirational part of my career is going to reflect on the menu from top to bottom.
The restaurant has been open for a few weeks. Are there any tweaks that you are thinking of making, or has it all been running smoothly and how you imagined?
There's tweaks every day. We were tweaking this morning. And that was the bouillabaisse. I went and studied [and] lived in France for years, and I learned with my eyes closed in Marseille how to make a beautiful bouillabaisse, and doing it with such incredible shellfish is packed with jeopardy. Cooking shellfish is way more difficult than cooking steak because there's only one temperature that's perfect. So part of that cooking with shellfish has to do with the temperature and the boiling of the broth. …
I strive for perfection on a daily basis and I wake up and you try so goddamn hard to get it right every day. It's installing that across the team. So [it's a] work in progress, but we are getting there.
What would you order tonight?
Well, that's tough on the spot. Depends on who I'm with. So I'd start off with the tuna tartare, that's a really fragrant, peaceful, zesty fresh tartare done with crème fraîche. And then I think I'd share the bouillabaisse for two because it's just out of this world. And then dessert: [the] sticky toffee pudding with a salted caramel sauce.
Newsletter Signup
Stay up to date on all the latest news from Boston.com