Restaurants
The Dish: 5 things to eat and drink in Boston right now
Including pulled pork bao, sangria, and the return of Nightshade's bánh mì.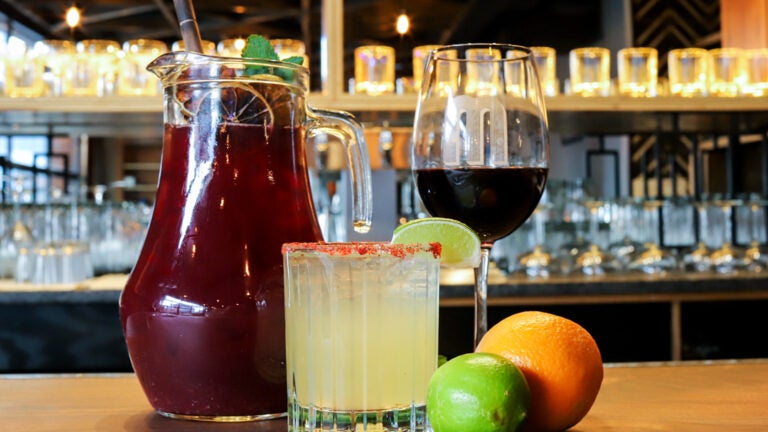 Wondering what to eat and drink in Boston this weekend? The Dish is a weekly guide to five things in the local restaurant and bar scene that are on my radar right now. Shoot me an e-mail at [email protected] to let me know what other dishes and drinks I should check out.
A note: The latest COVID-19 surge has resulted in an increasing number of restaurants around Boston closing for additional days during the holidays, whether due to positive test results or out of precaution. Before visiting a restaurant, check its website and social media accounts for updated opening hours. And, most importantly, exercise patience and show your support for our local restaurants as they navigate another difficult holiday season.
As promised, Mex debuted right before Christmas this year, opening the doors to its three-story, Kendall Square restaurant on Tuesday. When I spoke with owners Eric Quadrino and Delio Susi earlier this month, they emphasized how much fun they saw Mex being for the neighborhood. There's a "Viper Room" with snakeskin printed walls, a lowrider bicycle hanging from the ceiling, a rooftop deck with fire pits, and, most importantly, plenty of tacos and tequilas. Order inventive sushi tacos or more classic options like al pastor or birria tacos, plus margaritas and pitchers of sangria. Then snap a photo of the neon "Feed me tacos and tell me I'm pretty" sign — you know, for the 'gram.
It's finally here! I've been anticipating the opening of Wusong Road for a while now, an American Chinese restaurant that partially debuted in Harvard Square over the weekend (while the second floor is currently open for tiki drinks and dinner Tuesdays through Saturdays, the first floor deli will open in January). Chef Jason Doo is making Peking ravioli, pulled pork bao, crab rangoon, and house fried rice, all of which is also available for takeout. While Wusong Road is closed on Christmas, you can stop by on Christmas Eve, when you might be able to find some holiday specials like spiked hot cocoa and rye eggnog. Or order a tiki drink and pretend you're somewhere that is much, much warmer.
Nightshade Noodle Bar in Lynn recently brought back its lunchtime bánh mì sandwiches, a rarity on its menu that has proven to be a major hit in the past. Available from 11:30 a.m. to 2 p.m. seven days a week, the sandwiches currently include two options: shredded beef bánh mì and braised mushroom bánh mì, both served on incredibly fresh, flakey baguettes. It's only available for online ordering, where you can also stock up on items from Nightshade's retail market, which offers items like chili crisp, foie gras mousse, and a delightful Nightshade flower pin (a solid last-minute stocking stuffer, in my opinion).
Cambridge sushi stalwart Cafe Sushi is gearing up to open Shoten, a grab-and-go sushi and sake shop located next to the restaurant. When it debuts, you'll be able to find prepared sushi, imported snacks, Japanese pantry items, and plenty of sake. The shop isn't quite ready to open, but you can get a sneak peek by ordering a selection of pantry packages online. There's a Citrus Sunshine Box featuring imported ingredients that highlight Japanese citrus, a "Dress Up Your Sushi Kit" that includes gluten-free sauces and garnishes for giving your sushi a little extra boost, and a handful of other packages for sushi fans. I can't wait to pay Shoten a visit when it opens, but in the meantime, some Japanese citrus ingredients and an order of sushi will keep me sated.
If you're planning to spend some time in the North End over the holidays and are in search of a celebratory toast, may I suggest heading over to Strega North End? The Italian restaurant is offering a cocktail tree, a decorated wire "tree" that holds up to 12 cocktails. You can order any cocktail on the menu to fill out the structure, but on Christmas Eve and Christmas Day from noon to 8 p.m., Strega is offering a prosecco tree to celebrate the holidays. Cheers!
Sign up for The Dish
Stay up to date on the latest food news from Boston.com.