Restaurants
Grill 23 & Bar is one of the 'most festively decorated restaurants in the U.S. and Canada,' according to OpenTable
'Tis the season for a festive holiday lunch.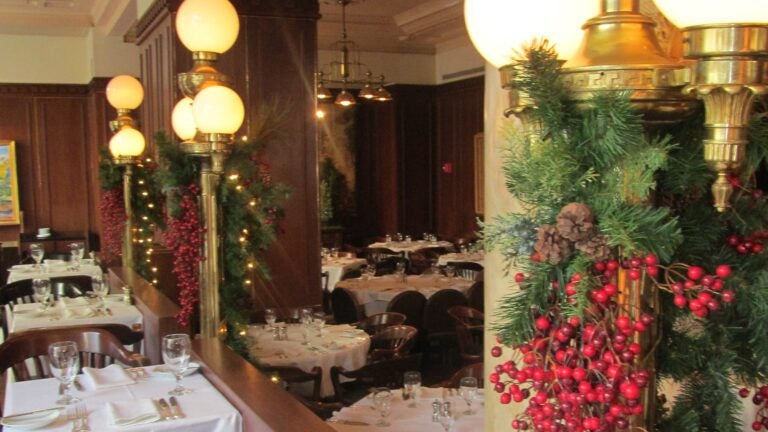 If dining in a festive setting is what you're after this holiday season, make your way over to Grill 23 & Bar.
The Back Bay steakhouse was recently included on OpenTable's list of "10 of the Most Festively Decorated Restaurants in the U.S. and Canada for Celebrating the Holidays." It also happened to be the only New England restaurant to make the cut.
"This award-winning classic steakhouse has helped Boston get into the holiday spirit for the past four decades," Joy Manning wrote about Grill 23. "Its stately staircase is strung with greenery illuminated with hundreds of white lights as well as bountiful red bows. Dining rooms on both floors are festooned with wreaths, holly, ribbons, Christmas trees, and a slew of lights."
Manning went on to call out the menu's "holiday-worthy dishes," like French onion soup, rack of lamb, and foie gras, along with the extensive wine list.
While Grill 23 is closed on Christmas Eve and Christmas Day, you can still stop in this week to get a glimpse of its holiday decor. On Dec. 22 and Dec. 23, the restaurant will host its annual holiday lunch from 11:30 a.m. to 2:30 p.m. with limited-time entrées and signature classics, including steak frites, pan-roasted sea scallops, Grill 23 prime meatloaf, and a lobster roll with Old Bay potato chips. A lunch martini is encouraged, and Grill 23 also has a great selection of mocktails.
Other restaurants around the country that made OpenTable's list include Angus Barn in Raleigh, N.C.; Craftsman Row Saloon in Philadelphia; and Homeslice in Chicago, Ill. Check out the complete list of festively decorated restaurants.
Sign up for The Dish
Stay up to date on the latest food news from Boston.com.