Restaurants
Tiffani Faison to close Tiger Mama, open new restaurant in the same space
The last day of regular service will be Oct. 29.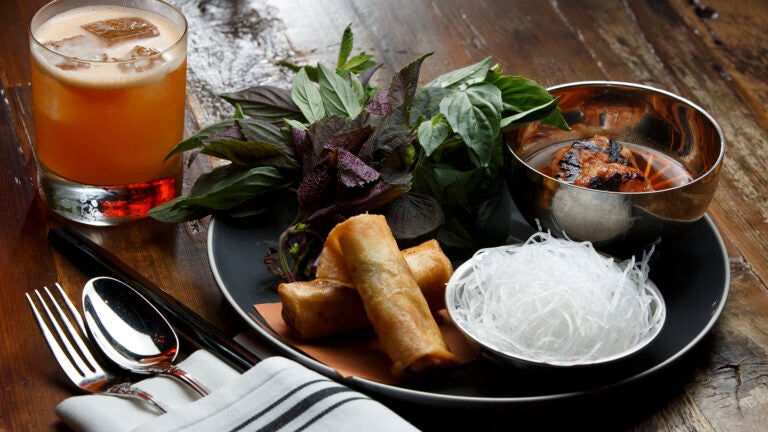 One of Tiffani Faison's Fenway restaurants will close for good this weekend, but the award-winning chef already has plans to flip the space into a brand new concept in 2022.
On Oct. 29, Tiger Mama will host its last regular service, then reopen for one final hoorah with a special Halloween Drag Brunch event on Oct. 31 at noon. Faison, chef and restaurateur of Big Heart Hospitality, opened the Southeast Asian restaurant almost six years ago, serving dishes like pad gra pow, Singapore street noodles, and bun cha Hanoi, along with an array of tropical cocktails. Neon signage and an elephant-shaped disco ball that greeted visitors by the host stand gave the restaurant a playful touch.
While Faison isn't spilling details about what will replace Tiger Mama, the "Chopped" judge and "Top Chef" alumnae provided some insight into why she decided to close the restaurant.
"I've had this new restaurant concept in my back pocket for a long time now, and when I began to look at spaces in Boston, I realized I was looking for a space similar to Tiger," Faison shared in a press release. "It'll be bittersweet to say goodbye to Tiger Mama, and I'm so proud of what we've been able to accomplish. It goes without saying, Tiger Mama will always have a special place in my heart. I want to continue to introduce exciting new concepts that our city will love."
Tiger Mama is the second Big Heart Hospitality restaurant to open in the Fenway neighborhood, following the debut of Sweet Cheeks Q in 2011. In 2018, Faison opened Fool's Errand, an adult snack bar that now offers private dining, and in 2019 she opened Italian restaurant Orfano, which aims to reopen later this month after temporarily closing in the winter of 2020.
Faison has even more projects on the horizon. When High Street Place, downtown's newest food hall, opens in March 2022, Big Heart Hospitality will open three concepts there: Dive Bar, a seafood-centric bar serving po'boys and lobster rolls; Tenderoni's, which will highlight pizza and grinders; and Bubble Bath, a 13-seat Champagne and wine bar featuring a Champagne vending machine and gourmet hot dogs.
Sign up for The Dish
Stay up to date on the latest food news from Boston.com.