Restaurants
The Dish: 5 things to eat and drink in Boston right now
Including cocktail trees, grilled cheese, and a sake/beer collab.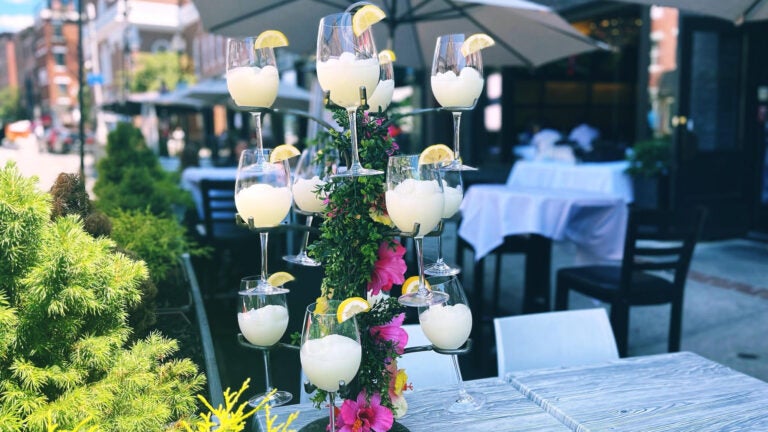 Wondering what to eat and drink in Boston this weekend? The Dish is a weekly guide to five things in the local restaurant and bar scene that are on my radar right now. Shoot me an e-mail at [email protected] to let me know what other dishes and drinks I should check out.
"Roadrunner: A Film about Anthony Bourdain," is set to hit theaters July 16, and if the trailer is any indication, I'll probably be shedding plenty of tears throughout the movie. But until then, we can celebrate Anthony Bourdain Day on Friday, Bourdain's birthday. At Juniper in Wellesley, chef Dave Becker will pay tribute to the culinary icon with Armenian meat pie, or lahmajoon, which was inspired by Bourdain's tumultuous Beirut episode on "No Reservations." Tuck into a freshly made pita topped with ground spiced lamb, garlic, tomatoes, chickpeas, onions, parsley, and a large spoonful of tzatziki, which you can order all day on Friday. A few other restaurants are adding items to their menu for the occasion: chef Ryan Skeen at The Beehive used to work around the corner from Bourdain's Les Halles, and he'll offer a charcuterie board inspired by Bourdain's restaurant; chef Robert Harris at Season to Taste will serve a steak tartare from Bourdain's Les Halles Cookbook.
Something I desperately missed during the pandemic was holing up at a dark, tightly packed dive bar with an excellent jukebox. All Souls Lounge, a new "old school joint" in Salem, recently opened, and there's a lot to love here: vintage cocktails and local beer, a killer jukebox and vinyl selection, and a lineup of grilled cheeses that sound phenomenal. The Sweet Salt arrives stuffed with cheddar, muenster, and fontina cheeses, plus applewood smoked bacon and hot honey on sourdough. The Pop This! comes with jalapeño cream cheese, aged cheddar, and Swiss. Looking for a blast from the past? Try the Inner Child, made with cheddar cheese and fried bologna on whole grain. Then go add some songs to the jukebox lineup and make some new friends.
I don't generally pluck my cocktails off trees, but there's a time and a place for everything, I guess, and an after-work drink at Strega North End is one of them. There, you'll be able to order the restaurant's new cocktail trees, a flower-covered structure that holds 12 drinks of your choosing (read: bring a few friends). There's a mimosa tree, a frosé tree (with both classic rosé and lemon flavors), or you can opt to mix and match your own botanical assortment, all while hanging out on Strega's outdoor patio.
Fun to say, even better to eat: La Pheegan Chef's Sassy Jack Chick'n will make an appearance at Vegan Pop Up + Chill, an event showcasing a handful of local vegan chefs on Sunday from 2:30 p.m. to 6:30 p.m. Held at 814 Washington St. in Canton, the vegan pop-up will include La Pheegan Chef's crispy, fried, plant-based "chicken" drumsticks, alongside oyster mushroom sliders from Discover Vegans, chocolate chip cookies from Clarke's Cakes & Cookies, and cocktails from Bully Boy Distillers — a complete meal, if you ask me. The small festival is a great way to slide back into food events post-pandemic, and the festival's musical act, Tricia Reed, is bound to get everyone moving.
When I spoke with Todd Bellomy, owner of the upcoming Farthest Star Brewery, in May, he mentioned that during the early years of his sake home-brewing journey, he'd joined forces with Cambridge Brewing Co. to make a sake/beer hybrid. Well, the band is back together again: Bellomy and Cambridge Brewing Co. have collaborated on an experimental Pilsner dubbed "Helicopter on Mars," now on tap. The new brew, which is inspired by Japanese rice lagers, uses sake yeast during the fermentation process to add notes of watermelon and strawberry. While Farthest Star isn't open yet — the sake brewery is aiming for an October 1 opening date — you can taste what's to come by heading over to Cambridge Brewing Co. this weekend.
Newsletter Signup
Stay up to date on all the latest news from Boston.com