Restaurants
New England farms are a source of inspiration for Wood Fired Love's pizzas
The new restaurant also offers gluten-free pizza dough and vegan options.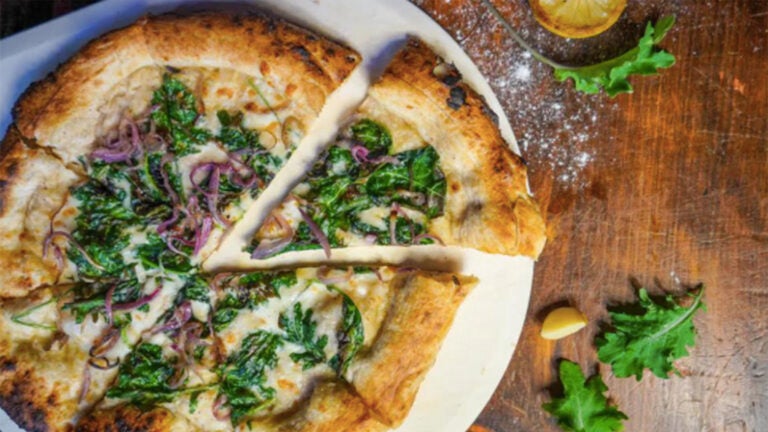 Wood Fired Love, a new pizza spot in the Mission Hill/Brigham Circle neighborhood, officially debuted Monday after a soft opening over the weekend, taking over the former Squealing Pig space to serve specialty pies and build-your-own options. Its ethos: A dedication to ingredients sourced from farms across New England.
Chris Gotreau, CEO of Wood Fired Love, was first hired by Squealing Pig owner Diarmuid O'Neill as a consultant after the restaurant closed.
"When I arrived [at the Squealing Pig] back in August, one of the things I had noticed was that it had these beautiful stone wood pizza ovens," Gotreau told Boston.com. "I came in here and said, you know, we already have these ovens. They're absolutely gorgeous; they're like the Ferrari of pizza ovens. So why don't I focus on this type of concept? Why don't we take it a step further and really look into a lot of local, sustainable type of ingredients?"
Wood Fired Love currently sources ingredients from eight farms in the New England area, including Jasper Hill Farm in Greensboro Bend, Vt., Narragansett Creamery in Providence, R.I., and Little Leaf Farms in Devens, Mass. Those ingredients end up in pies like the Vegan Garden (edamame guacamole, roasted potato, caramelized shallot, shitake mushrooms, and toasted pumpkin seeds), the Garlicky Kale (kale, caramelized onion, local cheddar, fresh basil, and roasted garlic white bean sauce), and The Pig (braised pulled pork, roasted corn and pickled red onion relish, and smokey barbecue glaze).
"The one that I absolutely love is called the White Mountain," Gotreau said, referencing a pizza that uses North Country Smokehouse bacon, local apples, Cabot cheddar cheese, sage, and Vermont maple syrup. "It's very similar to a pizza that I actually had a few years ago when I was vacationing in Vermont. I transformed it with some of the ingredients a little bit, but it brought me right back there."
Gotreau said he's also proud of Wood Fired Love's gluten-free dough program, which he developed with Didi Emmons, a James Beard Award nominee and cookbook author.
"She and I worked for about four months developing a gluten-free dough," he said. "Both my sisters are gluten-free, so I've eaten a lot of gluten-free pizzas around them. I wanted to try and come up with a dough that doesn't taste as much like cardboard or gets really firm and stiff and dries up. It took us about 28 rounds of playing with the dough to get it to the point where it really tastes very similar to what our normal whole wheat dough is."
The menu also offers vegan cheese and has plenty of vegetarian options for those following a meat-free diet.
Wood Fired Love's drink menu taps into New England's robust craft beer scene, with beers from Fiddlehead, Long Trail, Night Shift, Wachusett, Wormtown, and other breweries. Wine, soda, and non-alcoholic beer from Athletic Brewing fills out the rest of the beverage list.
Frequent patrons of the Squealing Pig won't find that the space has changed too much, though Gotreau said there is plexiglass partitioning off various four-top seating arrangements around the dining room. A 32-seat patio will launch sometime this week, but for those who are looking to eat at home, Wood Fired Love offers pick up, as well as delivery through DoorDash.
There are already plans for expansion, with two additional locations in the works.
"We're looking to launch another location in the next 10 months or so down on the Cape," Gotreau said. "And we're already looking at a third location down there as well. It's something that we're looking to build into a pretty cool brand."
Wood Fired Love is currently operating on a limited schedule, offering dinner Mondays through Wednesdays and lunch and dinner Thursdays through Sundays. Check out the restaurant's social media for the latest operating hours.
Get Boston.com's browser alerts:
Enable breaking news notifications straight to your internet browser.