Restaurants
Photos: Scenes from Hanover Street as the North End opens for outdoor dining
"The North End is probably the greatest neighborhood in the country," restaurant owner Frank Depasquale said.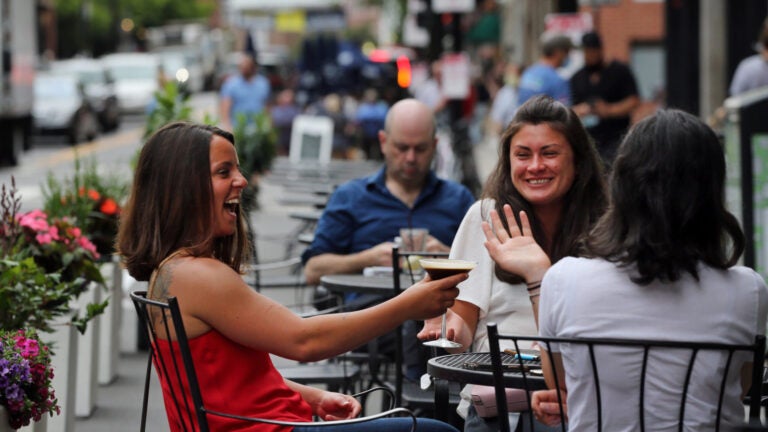 The scene on Hanover Street appeared more European than New England on Thursday, as restaurants in the North End spilled onto the street to allow for temporary outdoor dining.
While Phase 2 launched on Monday — and, with it, an increase in outdoor patios — the city announced that it was finalizing applications later in the week for outdoor dining in the North End, citing the density of the neighborhood as a reason for the additional scrutiny. For some, the wait was worth it.
"It was beyond exciting," said Frank Depasquale, owner of North End restaurants Bricco, Mare Oyster Bar, Quattro, and Trattoria il Panino. "People were so happy. This should have happened years ago."
Thursday's weather could have been better for the occasion. An employee at Caffé Vittoria, who declined to give her name, shared that the hours-long downpour kept many guests from taking advantage of the six tables they put out in front of the café.
"It wasn't a good day for it," she said.
John Desimone, owner of Cantina Italiana, said that he'll start offering outdoor seating at his restaurant on Friday. He took a walk through the neighborhood on Thursday, and noted that while pedestrians were excited to finally sit down for a meal on Hanover Street, some owners are still concerned about constantly shifting city guidelines related to demarcations, barriers, and how much space on the street these restaurants are able to use. Desimone is also worried about the weather.
"That's a huge concern among all of us — what to do if the weather shifts, constantly monitoring the weather," he said.
For Depasquale, the weather is just another obstacle that can be overcome. He said that when the storm rolled through, his restaurants allowed customers to wait inside while they packaged their food to go.
"Let me tell you this: The North End is probably the greatest neighborhood in the country, and it emulates everything that Italy does," he said. "The food is spectacular here. We're all one."
For more of a glimpse at what outside dining looked like in the North End on Thursday, check out the photos below.
North End is open for business! Can we make this outdoor dining thing permanent? @BostonTweet pic.twitter.com/bbPly9qK0Y

— Andrew (@andytuckerman) June 11, 2020
Feels like Italy! Take a look at Hanover Street in the North End. Parking spots are now restaurant patios. #WBZ pic.twitter.com/qmp9bqKJfR

— Kristina Rex (@KristinaRex) June 11, 2020
Frank Pellino owns Pellino's Ristorante in the #NorthEnd. He says shutting down streets and sidewalks for outdoor dining is a "godsend," and he wants it to continue every summer. #WBZ pic.twitter.com/3kcblOc0De

— Kristina Rex (@KristinaRex) June 11, 2020
One thing that can put a damper on new #NorthEnd outdoor dining…rain. #WBZ pic.twitter.com/yKet7HLFa5

— Kristina Rex (@KristinaRex) June 11, 2020