Restaurants
Free s'mores, a late night snack party, and more weekend food events
Plus, take advantage of these Leap Day deals on Saturday.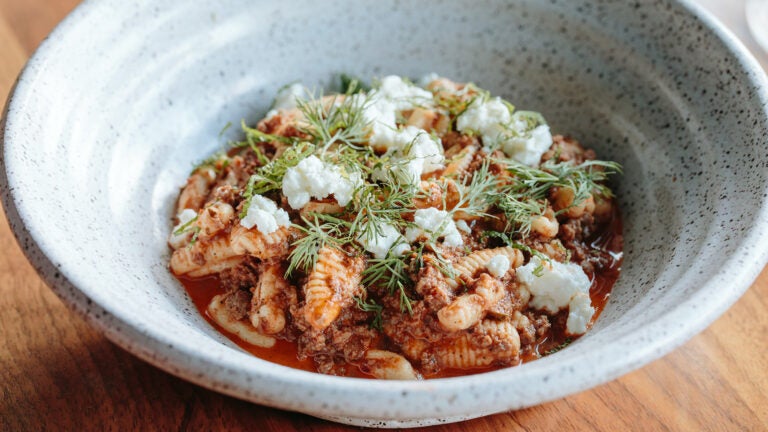 This weekend, I'll be heading up to Vermont for a cabin-in-the-middle-of-nowhere type of vacation. Chili will be made. Drinks will be mixed. But the food tradition I love the most on mini vacations is the pre-road trip diner stop, the one where we fuel up for the long car ride ahead with rib-sticking corned beef hash and pancakes and bacon.
A few months ago, I visited Watertown's Deluxe Town Diner for the first time and fell in love with a plate of cheesy huevos rancheros, so that's where I'll be filling up before hitting the road. I'd love to know: What diners are in your usual rotation? Let me know in the comments or shoot me an email at [email protected].
If you're sticking around this weekend, there are plenty of winter parties to attend, along with insightful panels, Leap Day deals, and more. Check them out below, and have a great — and delicious — weekend!
1. Bring your friends to a winter party
Spring is almost here (see: the reopening of Sullivan's Castle Island), but you wouldn't know it with all the winter-themed parties taking place this weekend. On Saturday from 2 p.m. to 5 p.m., Citizen Public House and Oyster Bar in the Fenway will throw a winter patio party, complete with hot buttered rum, a Whiskey Wagon mobile bar, live music, and free s'mores, all of which can be enjoyed under the patio's heat lamps. Over in Cambridge, Harvest's winter lodge party will channel après ski vibes on Sunday from 6 p.m. to 9 p.m. Don your best flannel and get cozy with Maker's Mark cocktails, an ice luge, bites from chefs Tyler Kinnett and Joshua Livsey, and music from DJ Ryan Brown. More about escaping winter than embracing it? Friday's winter escape party at the Envoy Hotel's Lookout Rooftop and Bar in the Seaport is all about the tropics: think island music, tropical drinks, and limbo and hulahoop contests. Wear your most colorful attire if you want to scare away the winter blues.
2. Attend Market Chats at Boston Public Market
I read and write about the food industry all day, but there is always something (many things!) I could spend more time learning about — which is why I was excited to hear about Market Chats, a new series held on the last Thursday of each month (including today) at Boston Public Market. The series will revolve around food and nutrition topics, featuring panels that include farmers, journalists, chefs, entrepreneurs, and others. Running from 6 p.m. to 7:30 p.m., each free lecture will include complimentary craft beer and snacks. The first lecture in the series (Feb. 27) kicks off with a discussion on food blogging, followed by transparency in food sourcing (March 26) and the beverage industry (April 30).
3. Take advantage of Leap Day deals
Leap Year comes around once every four years, so it kind of feels like a party when it arrives. To mark the occasion, restaurants are offering one-off deals and special menus throughout the day on Feb. 29. Like Bambara Kitchen + Bar, where chef David Bazirgan has devised a three-course, prix fixe meal for $29, with options that include beet salad, cavatelli with lamb ragu, and chocolate cake with passionfruit ice cream. Or Legal Sea Foods, where diners can partake in a two-for-one deal: two steamed lobsters plus two sides for $29. Stop by Milk Bar in Cambridge on Saturday and you'll be able to score cereal milk soft serve for $2.29 (and if you happen to be born on Leap Day, you'll be rewarded with a free mini birthday cake). And in case you haven't heard, Sullivan's Castle Island will reopen for the season on Saturday, complete with half-priced hot dogs. Snag a dog, some vanilla soft serve, and revel in the one extra day we have this year.
4. Make like a night owl at Mei Mei
First, a big congratulations to Mei Mei chef/owner Irene Li, who recently received a James Beard Award semifinalist nomination for Rising Star Chef of the Year. Now you can enjoy her talents at Mei Mei even later as the Fenway/Kenmore restaurant extends its hours on Friday for Mei Mei After Hours, a late-night fête offering a special One Night Stand snack and drink menu. There will be games! New cocktails! Probably dumplings! And, since the series launches during Black History Month, any diner who has participated in the Boston Black Restaurant Challenge and used the hashtags #bostoneatsblack and #blackrestaurant will receive a free corn fritter snack.
5. Party like a pitmaster at The Smoke Shop
Pitmaster Andy Husbands and chef Will Salazar recently released their new cookbook, "The Smoke Shop's Backyard BBQ," and they're giving everyone a taste of what's inside with a cookbook release party at The Smoke Shop's Kendall Square outpost (I happen to have this cookbook, and believe me when I say that its recipes are actually manageable, fun, and straightforward). The authors will be on hand to chat about all things barbecue, including recipe tips and how to host a memorable party. Tickets ($35-$45) include one cocktail, appetizers (think creole popcorn and mini everything biscuits with chicken fried steak), a demo, and a few giveaways.