Restaurants
Guy Fieri's Tequila Cocina starts serving tacos on Halloween
The restaurant debuts at 5 p.m. on Thursday.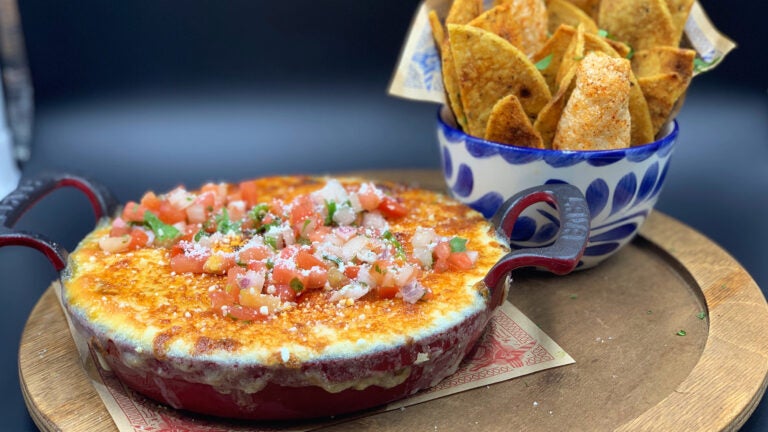 Do your plans for celebrating Halloween in Boston involve costume parties? Trick-or-treating? A trip to Guy Fieri's Tequila Cocina for tacos and queso fundido?
After months of anticipation, the mayor of Flavortown and Food Network star will open his Latin street food spot on Thursday in conjunction with the Big Night Live concert hall and Studio B event space, all three of which are part of a joint development from Big Night Entertainment Group (BNEG) within The Hub on Causeway. It's Fieri's first Boston restaurant, though the food personality previously partnered with BNEG when he opened Guy Fieri's Foxwood Kitchen + Bar at Foxwoods Resort Casino.
"We have a relationship with him at Foxwoods, and we've been out with him a bunch of times," BNEG principal, Ed Kane, told Boston.com. "He loves music, he's very good friends with a lot of musicians. So we got talking to him about what we're doing here: a Mexican street food restaurant. He loves Mexican food. He knows a lot more about regional Mexican food than we did. And we could create a brand with him that doesn't exist."
BNEG's corporate executive chef Kevin Scott and Fieri worked together on developing the menu, and executive chef Rachel Klein will execute it (she will also oversee the culinary program at Studio B and Big Night Live). In addition to a raw bar, there will be small plates that include tacos, queso fundido, crispy pork belly, and street corn (and, as Eater Boston reported, a towering pile of trash can nachos). Larger items — including the molcajete de carne y marisco with chicken, steak, chorizo, shrimp, chambray onions, and panela cheese — are ideal for big groups.
There will also be plenty of tequila — more than 100 varieties, in fact, including Santo Tequila Blanco, Fieri's own brand of tequila that he owns with Sammy Hagar, a former Van Halen lead singer. Their tequila will be used in cocktails like the chipotle sour margarita, made with Santo Blanco, chipotle sour, lime, and strawberry purée.
"I'm very excited to be a part of Big Night's largest venture yet," Klein said in a press release. "It's been amazing working with corporate executive chef Kevin Scott and Guy Fieri on this bold menu that mirrors the fun and vibrant atmosphere that BNEG is known for."
Guy Fieri's Tequila Cocina is comprised of a lounge space, bar area, and upper and lower dining floor. Custom murals by artist Dirty Dek hang on the walls, and two entrances — one from the lower level box office and one from the Causeway's second floor — lead into the restaurant.
Kane said that this is his 30th project with BNEG, and one that he reinvented multiple times.
"It's the largest project I've ever worked on," Kane said of the 43,000-square-foot space. "It's the most complex; it has the most volume. We designed it three times. We had a bowling alley originally planned for the space."
Instead of bowling strikes, patrons will now be devouring tacos and slinging back tequila shots next to TD Garden. The restaurant will open at 5 p.m. on Thursday.
Guy Fieri's Tequila Cocina; 110 Causeway St., Boston; Sundays–Thursdays from 4 p.m.–midnight; Saturdays from 4 p.m.–2 a.m.; guyscocina.com