Restaurants
I asked for your favorite taco spots. Here's what you recommended.
Now, who wants to go on a taco crawl?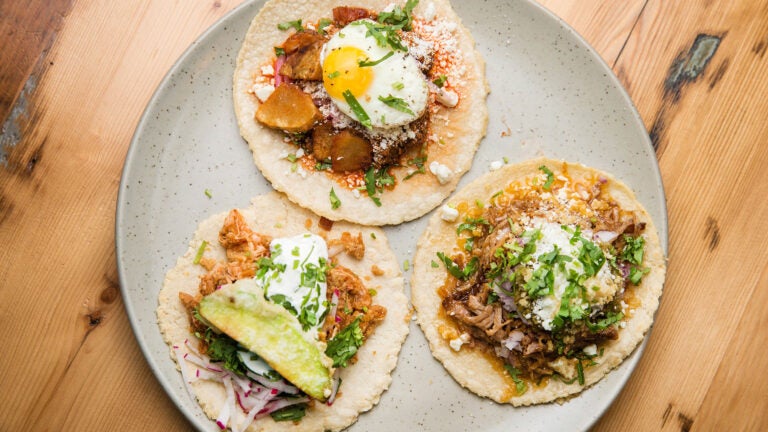 Ask and ye shall receive.
Ask about tacos in Boston, and ye shall receive not just recommendations, but bold declarations of tortilla greatness and superior sauces. That's what happened last week when I shared that I was (sort of) new in town, would be reviewing restaurants, and oh, by the way, did you have any taco recommendations?
You sure did. I received a deluge of emails and tweets — a few of you even slid into my Instagram DMs — that waxed poetic about restaurants (Mexican and otherwise) serving memorable tacos throughout the Greater Boston area. Some people called out specific dishes: caramelos tacos at El Pelón Taqueria, carne asada tacos at Blue Dragon, crispy nori tacos at Hojoko, and the al pastor mulita (a genius taco/quesadilla hybrid) at Tacos Lupita. The fish tacos at Granary Tavern got a shout-out, as did the cauliflower tacos at both South End dive bar Delux Cafe and Mexican kitchen and tequila bar chain, Papagãyo. By far, the most popular recommendation was Taqueria El Amigo, a compact restaurant in Waltham serving tacos, tortas, burritos, and quesadillas, and one that has won local awards and garnered consistent praise.
We've written about tacos in the past, but I wanted to hear what you had to say, and it's only right to share the feedback. Here are the 18 places that were highly recommended — thank you, and I can't wait to try them all.
Baja Box
At Baja Box, a seaside shack near Wollaston Beach in Quincy, Baja-style fish and shrimp tacos are sold alongside nachos and ice cream. (793 Quincy Shore Drive, Quincy)
Blue Dragon
This tapas restaurant in Fort Point features carne asada tacos, though the rest of its fusion menu ranges from dim sum to noodle dishes to platters meant to be shared. (324 A St., Boston)
Chilacates
Chilacates, a Mexican street food chain, has rapidly expanded in the past year, and now has locations in Jamaica Plain, Chestnut Hill, Mission Hill, and the South End. Try the lengua (beef tongue) tacos. (Multiple locations)
Delux Cafe
The vegetarian tacos at this cash-only dive bar in the South End come highly recommended (and the beer selection is nothing to scoff at). (100 Chandler St., Boston)
El Pelón Taqueria
Open since 1998, El Pelón now has two locations serving tacos, enchiladas, tortas, and more; the caramelos tacos were a specific reader favorite. (92 Peterborough St., Boston; 2197 Commonwealth Ave., Brighton)
El Vaquero
This Medford restaurant serving Mexican street food opened in 2018, and readers raved about the elotes and top-notch tacos coming out of this tiny space (don't come with a big group!). (478 High St., Medford)
Granary Tavern
The swordfish tacos at this American gastopub in downtown Boston are served with veggie and corn salsa, cabbage, lime crema, and french fries. (170 Milk St., Boston)
Hojoko
Tacos at a Japanese restaurant in the Fenway? You bet: Chef Rob Wong's crispy nori sushi tacos, which he also serves at Gogo Ya in the Time Out Market, have a dedicated fanbase. (1271 Boylston St., Boston)
Naco Taco
This taqueria in Cambridge's Central Square makes their own tortillas in-house, with fillings that range from duck confit and smoked tofu to chorizo and fried shrimp. (297 Massachusetts Ave., Cambridge)
Papagãyo
The street tacos at both locations (downtown Boston and Somerville) of this Mexican restaurant use flour tortillas, and diners can choose among pork, shrimp, chicken, and tilapia — though one fan swears that the vegetarian tacos here are tops. (15 West St., Boston; 331 Great River Rd., Somerville)
Tacos Lupita
This one's a bit of a drive, but one reader recommended the al pastor mulita at Tacos Lupita in Haverhill, which also serves gorditas, quesadillas, huaraches, and tortas. (194 River St., Haverhill)
Taqueria El Amigo
Braised beef cheeks and lengua are just a couple of favorites at Waltham's beloved Taqueria El Amigo, which is thankfully no longer cash only. (196 Willow St., Waltham)
Taqueria el Barrio
The Brookline newcomer has been open for a few weeks, and there's already buzz about the tacos here, which include chorizo, carnitas, asada, and more variations. (1022 Commonwealth Ave., Boston)
Taqueria Jalisco
East Boston is rife with great Mexican food, but this was the neighborhood's standout recommendation: Taqueria Jalisco, a colorful space on Bennington Street serving customizable tacos — come by for the birria version on the weekends. (291 Bennington St., Boston)
Taqueria Mexico
Choose from flour or corn tortillas at this Mexican restaurant in Waltham, where fillings like lengua, barbacoa, and chorizo have put Taqueria Mexico on the map. (24 Charles St., Waltham)
Tenoch
Tenoch's three locations serve soft corn tortillas stuffed with Mexican pork sausage, salted beef, lamb, pork in adobo sauce, and more options that made this restaurant one of the most recommended taquerias. (Multiple locations)
Villa Mexico Cafe
Downtown workers looking for a quick bite can stop at Villa Mexico Cafe for corn tortillas filled with cheese, cilantro, onion, and the meat of your choice (score an extra taco for free on Tuesdays). (121 Water St., Boston)
Yellow Door Taqueria
Find creative tacos in Dorchester at Yellow Door Taqueria, where Cali-Mex versions include mezcal shrimp, scallop frito, mushroom carnitas, and poblano plantain con yucca. (2297 Dorchester Ave., Boston)