Restaurants
Here's where to find Boston's best National Doughnut Day deals
It's going to be hard to not eat a doughnut on Friday.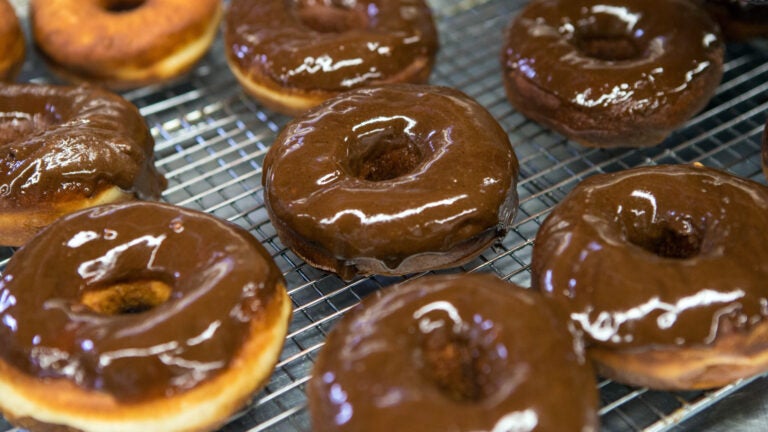 National Doughnut Day is on Friday (at least, the first of two per year). And while some food "holidays" leave a lot to be desired (Do we really need a National Cheese Doodle Day?), a day dedicated to doughnuts is 24 hours well spent.
Local doughnut shops and national chains plan to offer special deals and flavors throughout the holiday, so stop in for a doughnut before work or grab a midday treat — just don't skip out on Boston's unofficial official dessert (sorry, Boston cream pie!).
Blackbird Doughnuts
All four locations of Blackbird Doughnuts will scrap their current seasonal menu and replace it with a lineup of all-time fan favorites, including The Blackbird, lemon poppy, Purple Cow, coconut cold brew, salted toffee, guava glaze, and more. The Brighton location will open an hour earlier than normal, letting customers get their early morning doughnut fix starting at 6 a.m. (Multiple locations) 
Cumberland Farms
The Framingham-based convenience store will give away one free doughnut (cocoa hazelnut-filled, cookies and cream, glazed, and blueberry) on Friday to any customer who purchases a dispensed beverage. (Multiple locations)
Dunkin'
The chain may have dropped the "Donuts" in its name, but it's still known for the doughy treats. On Friday, Dunkin' will give customers a free classic doughnut with the purchase of any beverage. (Multiple locations)
Kane's Donuts
On National Doughnut Day, Kane's will announce the winner and runner-up of its "Kane's Next Handcrafted Donut" contest, which invited fans to post their wildest doughnut combinations on Kane's Facebook and Instagram pages. The shop's three locations — one in downtown Boston and two in Saugus — will also offer guests a box of doughnut holes with the purchase of a dozen doughnuts. (Multiple locations)
OAK Long Bar + Kitchen
In a clutch Pride Week/National Doughnut Day mash-up, OAK pastry chef Lindsay Le Blanc will make funfetti brioche doughnuts with a rainbow glaze. The 3-inch minis will be available to patio customers free of charge on Friday from 4 to 8 p.m. with the purchase of any food or drink. (138 St. James Ave., Boston)
Red Apple Farm
Head to Boston Public Market on Friday for Red Apple Farm's National Doughnut Day deal, which will give customers one half dozen of free doughnuts after the purchase of one dozen doughnuts. (100 Hanover St., Boston)
Union Square Donuts
While Union Square Donuts won't have any deals on Friday, the shops will launch a brand-new flavor: Jumble Berry, a yeasted doughnut with a mixed berry glaze. Find it in the Somerville, Brookline, and Boston Public Market locations. (Multiple locations)