Food News
UBurger closed its original location in Kenmore Square
The burger joint shuttered after 15 years.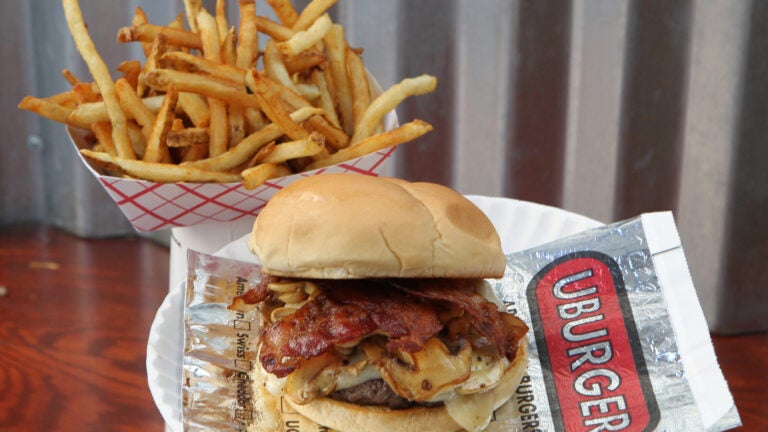 Fast casual burger chain UBurger announced in a Facebook post on Saturday that its original location in Kenmore Square has closed for good.
"We are sad to announce that after 15 years of serving our loyal patrons of Boston, and after a challenging last few years, our original store in Kenmore Square will now be closed," the post read. "We are grateful to have had an amazing team that has worked hard through the years to help serve high quality burgers and fries to Boston. Thank you to all of our fans at Boston University and surrounding schools [and] businesses in and around Kenmore Sq and all the fans at Fenway Park. We will miss serving you!"
The burger joint encouraged customers to visit its Andover location at 89 Main St. A third branch is located at Northeastern's Curry Student Center. The chain's Commonwealth Avenue location in Boston University's West Campus closed in 2018.
Co-founders Nick Kesaris and Spiro Kouvlis founded UBurger in 2001, though the first location didn't open until October 2006. A destination for students and Red Sox fans, the casual spot offered original and customizable burgers, as well as chicken sandwiches, salads, hot dogs, hand-cut fries and onion rings, and frappes.
"Sorry to hear that you guys are closing!" Mei Tjoa-Wiriadjaja wrote in response to the closure. "My family favorite burger's joint. We drove from Weymouth almost every weekend."
"We just moved away after living in Boston for 14 years," Melanie Julian shared. "Over those years, this was our favorite place to have a quick dinner together — in fact we ate one of our last Boston meals there. Very sad we'll never be able to return. Everything you guys do is the best!"
"So sorry to hear this," Michael Sehn wrote. "UBurger sustained me many nights while I was a student at BU. Delicious burgers and fries and some of the best shakes aka frappes around. You guys will definitely be missed."
Sign up for The Dish
Stay up to date on the latest food news from Boston.com.