Cocktail Club
Meet the South Shore bartender helping Quincy become a cocktail destination 
Palmer Matthews opened Pearl & Lime in the middle of the pandemic. He's ready to welcome guests back to the bar.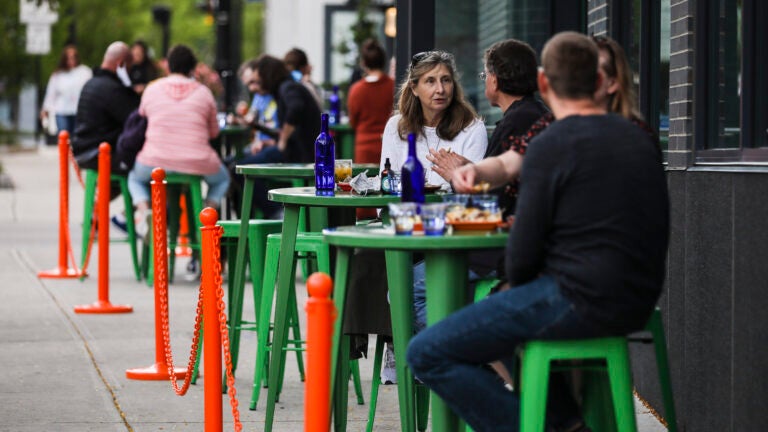 From what he can remember, Palmer Matthews still enjoys being behind the bar.
The managing partner at Pearl & Lime in Quincy Center has spent the past year on the floor of his restaurant that opened last year in the midst of the pandemic. With COVID-19 restrictions lifting on Saturday, Palmer is ready to tend the bar again.
Matthews got his start in the service industry in Southie before falling into Drink in Fort Point where he "couldn't have been luckier" to land a position with Barbara Lynch's team. Since then, Matthews has spent the past several years contributing to Quincy's evolution as a dining destination, first as part of the opening team at The Townshend and most recently partnering with the restaurant's owner Devin Adams to open Pearl & Lime last August.
On Thursday, Matthews joined the Cocktail Club for rum cocktails, mixing a classic Mai Tai and a rum Old Fashioned. Ahead of the class, we spoke with the born and raised Quincy resident about the city as a hub for independent businesses, how the Nintendo Switch helped him through the past year, and what he's most looking forward to when COVID-19 restrictions lift for businesses on May 29.
What got you hooked in the service industry?
I started out in the service industry working at a hole-in-the-wall in Southie. It was a part-time and summer job while I was in school — bussing, serving, checking IDs, whatever needed to happen, really. Eventually, I dropped out of school after an internship helped me to realize that I wasn't on the right path. Not too long after, Drink opened up in Fort Point, and I kind of stumbled in one day and was just blown away by how nice the staff was. Drink quickly became my after work stop for a well-deserved drink. One night, after stopping a bro from stealing a bottle of whiskey when the staff wasn't looking, I was offered a barback position there. I didn't realize it at the time, but I couldn't have been luckier to have fallen into a position there, working with some of the best hospitality professionals that I've ever met.
If you were a cocktail, what would you be, and why?
I'd be a mojito, because I'm misunderstood and I smell nice.
This Memorial Day weekend is poised to bring big changes for the restaurant and bar industry. What are you most looking forward to?
I'm most looking forward to tending bar again. Having opened Pearl & Lime in the middle of the pandemic, not being able to have guests at the bar, I've had to keep myself on the floor. It's been about 15 months since I last tended bar in earnest, and I seem to remember that I really liked doing it.
Do you anticipate any challenges?
I don't know if it will be a challenge, but I am curious to see how many people have forgotten how to act in a public, social setting.
What's been helping you through the pandemic?
My Nintendo Switch. I bought one for myself a few months before the pandemic on the recommendation of a friend. Todd, if you're reading this, I owe my last shreds of sanity to you.
What do you like about the rum Old Fashioned, or more generally, rum-based cocktails?
That's easy. The mix-and-match, plug-and-play aspect of a rum Old Fashioned means that even if a rum Old Fashioned is your go-to cocktail, you can practically go a lifetime without having the exact same drink twice, if you so choose. Rum is so diverse, and yet intermingles so well, that you can continually blend and experiment and never cease to be pleased. It also provides a convenient excuse for adding new bottles to your rum collection.
What's your best tip for at-home cocktail enthusiasts?
Just remember, when mixing at home, you can always add more of an ingredient after you've tasted your cocktail, but you can never take any out.
Quincy Center has changed a lot since The Townshend first opened. Did you anticipate it becoming a dining out destination?
Quincy Center has already become a bit of a destination for communities south of Boston, and I expect that to continue for the foreseeable future. The best part is that there isn't much of a corporate presence at the moment, so you find a diverse scene of independent establishments each doing their own thing.
How can people support you and your colleagues in the service industry right now?
Honestly, at this point in time, the best way to support the service industry right now is to know that there are a lot of changes that will be taking place, and to be open and understanding.
---
Join our next virtual cocktail class
Join us Thursday, June 3, at 7 p.m. for Boston.com's Cocktail Club with host Jackson Cannon and special guest Mellie Wiersma, bartender at The Quiet Few in East Boston. This week they'll be making cocktails with mezcal, catching up about the Boston restaurant and bar scene, and sharing tips the pros use to make great drinks at home. They'll be mixing the classic mezcal Paloma and spicy margarita. Everything you'll need is listed here with a link to purchase your Boston.com cocktail kit through Gordon's Fine Wine and Spirits.
Newsletter Signup
Stay up to date on all the latest news from Boston.com