Streaming
Leonardo DiCaprio and Jennifer Lawrence roam Boston trying to save the world in 'Don't Look Up' trailer
The star-studded Netflix satire debuts in December.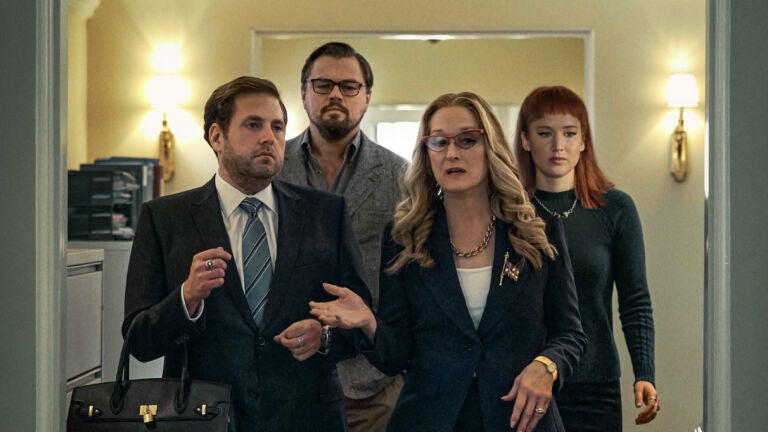 The first full trailer for Netflix's "Don't Look Up" is here, and Leonardo DiCaprio, Jennifer Lawrence, and the rest of the star-studded cast who filmed in Boston last winter are facing imminent doom thanks to a fast-approaching "planet killer" asteroid.
Expanding on the teaser trailer released by Netflix in September, the new trailer shows additional details as to how two astronomers (DiCaprio, Lawrence) attempt to convince the world to pay attention to an asteroid that has a "100 percent chance" of destroying Earth if no action is taken.
Despite delivering "the worst news in humanity" to President Jamey Orlean (Meryl Streep) and her son/presidential aide Jason (Jonah Hill), the pair of astronomers (and a sympathetic government official played by Rob Morgan) are rebuffed.
"At this exact moment, I say we sit tight and assess," Streep tells the room.
"The sit tight part comes first," Hill adds. "Then you gotta digest it. That's the assessment period."
Beyond a combative administration, the duo also face an indifferent public more concerned with the latest celebrity news, served up by a pair of relentlessly cheery talk show hosts played by Cate Blanchett and Tyler Perry.
"The handsome astronomer can come back anytime. But the yelling lady? Not so much," Blanchett simpers after Lawrence storms off the show's set.
Along with the aforementioned cast members, "Don't Look Up" stars Himesh Patel ("Yesterday"), Timothée Chalamet ("Dune"), Melanie Lynskey ("Togetherness"), Ron Perlman ("Sons of Anarchy"), Tomer Sisley ("We're the Millers"), Lowell native Michael Chiklis ("The Shield"), singer Ariana Grande, rapper Kid Cudi, and features a cameo by Sudbury native Chris Evans.
Eagle-eyed viewers may spot Boston's Financial District in a few quick shots, with Devonshire Street masquerading as New York City at the 41-second mark and a restaurant scene filmed at Howl at the Moon at the 45-second mark. (A riot scene at the 2:07 mark was also filmed outside the restaurant.)
In total, McKay and crews spent three months filming "Don't Look Up" in Massachusetts. Besides Boston, filming also took place in Canton, Chicopee, Fall River, North Attleborough, Norton, Salisbury, Westborough, Weymouth, and Worcester.
In a statement emailed to Boston.com on the final day of filming, McKay thanked the city of Boston for supporting the movie, calling the pandemic-era production his "most challenging film experience" ever.
"This was the strangest and most challenging film experience I've ever had," McKay said. "And thanks in no small part to the gracious support Boston gave us, we were able to pull it off. The really good pizza didn't hurt either."
"Don't Look Up" will be playing in select theaters on Dec. 10 before arriving on Netflix Dec. 24.
Watch the full trailer below.
Newsletter Signup
Stay up to date on all the latest news from Boston.com