Local
Collector's secrets: Stories from a Massachusetts license plate expert
At one point Stewart Berg had collected 100,000 license plates.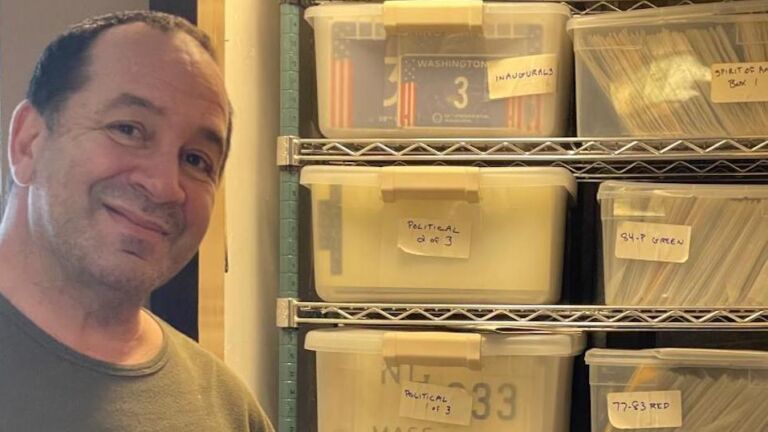 As a little kid in the 70s, Stewart Berg visited the same street in West Roxbury where one house held garage sales every other Saturday morning during the two to three months of summer when the weather stays balmy, and he always sang the same question: "got any old plates?"
License plates, that is.
"I must have bought like 100 plates from this lady. She was right across from this church on Center Street," said Berg, a local Massachusetts license plate historian and the state's preeminent collector. "I just remember not hesitating to go there the first thing every Saturday morning to see what kind of new stuff she had … how she was getting some of the stuff and finding these plates was just beyond me."
Yet soon enough Berg would have plenty collector's secrets of his own.
An elementary schooler living in South Brookline at the time, finding license plates quickly became his forte throughout childhood. What he couldn't know then was the people he would meet, the history he would encounter, and the connections he would make as the hobby sprawled into the rest of his life.
Aside from the traditional garage sale, Berg would frequent flea markets and trade shows to find new treasures.
"The best part was that I had a hobby," he said, thinking back to his younger self. "I was playing baseball and football, and collecting plates. Those were my three activities back then."
The Chestnut Hill resident has about 10,000 total plates in his collection, which he dwindled down from the cool 100,000 he previously owned.
Storage boxes brimming with plates are dispersed throughout Berg's life — some are stocked in his closet at home while others are stacked on rows of racks set up in his Cambridge warehouse. And as backup to keep track, Berg stored a digital run-down of the whole collection on his laptop.
"It's great because I finally know how much I paid for one of them and I can hopefully sell it for more than I paid for it," Berg said. "Which is not an easy thing these days."
His first inspiration for the pastime came around age six just before inheriting all the plates that had been tacked against the rafters of his grandparent's garage.
Berg's grandfather was an engineer who accumulated old automobiles, and when he died, Berg went back to their house and propped up a ladder to pluck the last pieces of his collection from the ceiling, forging the beginnings of Berg's own.
As his journey began, everyone at the local rotary club became familiar with the 12-year-old who would recurrently join the meetings to give a mini-presentation.
"My dad used to drive me over there in a big Buick wagon and I'd put a bunch of plates in the back of it, and give like a half an hour talk about old license plates," Berg said. Once, "this guy handed me this old plate, and it was one of the plates that were from the Stanley Steamer factory, and it was registered to one of the Stanley brothers. I have that plate today. It means so much to me to have that be part of my collection and history."
Throughout high school, Berg began to display some of his more unique finds at the Brookline Bank or Putterham Circle.
When he had a free moment he often found himself wandering toward varying Brookline dealerships, where owners would save him stashes of dealer plates or some that had been peeled off totaled cars.
Growing up down the street from Larry Bird perfectly positioned Berg to be the one to keep the plates off his car, too.
"Larry Bird, you would see him outside mowing his lawn and I lived like literally 200 yards from his house," Berg remembered. "He had this old clean Lincoln Continental that he would drive everywhere."
Through the friends Berg made at the Mass. Registry of Motor Vehicles, he encountered the collector's dream: tag-along trips to basements filled with leftover or unissued plates, and an excursion as a teenager to Walpole, where he saw prisoners manufacturing plates by hand, though not many knew this was the case at the time.
"It was like a weekly trip down to 100 Nashua St. where the jail is now and going into the basement. Every time I went down there I got to take home a few plates," he said. "Some of them dated back."
When finding unique plates Berg noted it's all about who you get to know.
Being a former employee for the federal government he said he's gotten to know someone in Washington D.C. who helps him obtain every presidential inaugural plate — each of which is only made every four years and are featured on the presidential limousines during their respective inaugurations. The U.S. started the tradition with Franklin D. Roosevelt's in 1933.
"I have one of the only collections," Berg said, adding that he just secured a lead on President Joe Biden's plate as well.
There is tons of rich history behind the license plate, Berg said, and plenty of it can be traced back to the Commonwealth. Over 150 manufacturers alone were based in Massachusetts at the turn of the century, he said.
"The old Packard automobile Cadillacs were made here, the Springfield Rolls-Royces — Rolls-Royce had a factory in Newton, Stanley Steamers were built in Newton," Berg said. "There were just so many manufacturers making automobiles … We were the Detroit before there was a Detroit."
The state Registry of Motor Vehicles first formed in 1892 when the Mass. legislature created a commission that would report on road conditions as they grew congested with automobiles, horse-drawn carriages, and pedestrians.
Massachusetts was the first state in the U.S. to officially issue vehicle license plates in 1903, bestowing the first to Frederick Tudor in 1903. It read, rather simply, "1."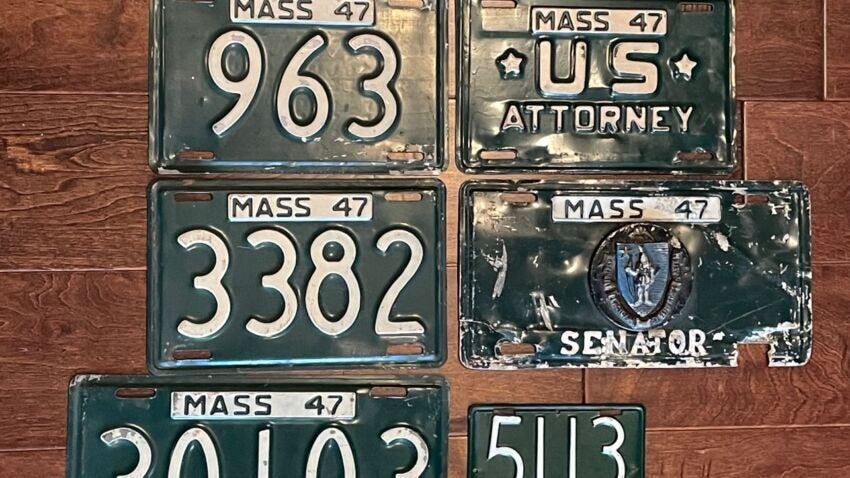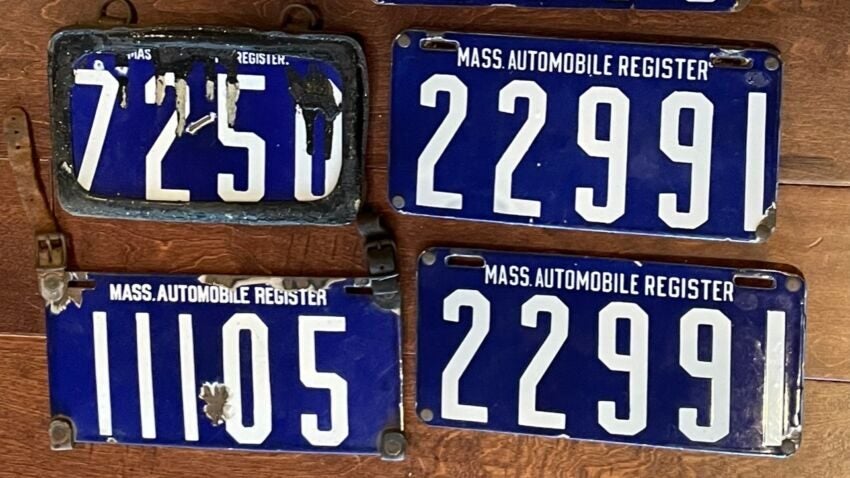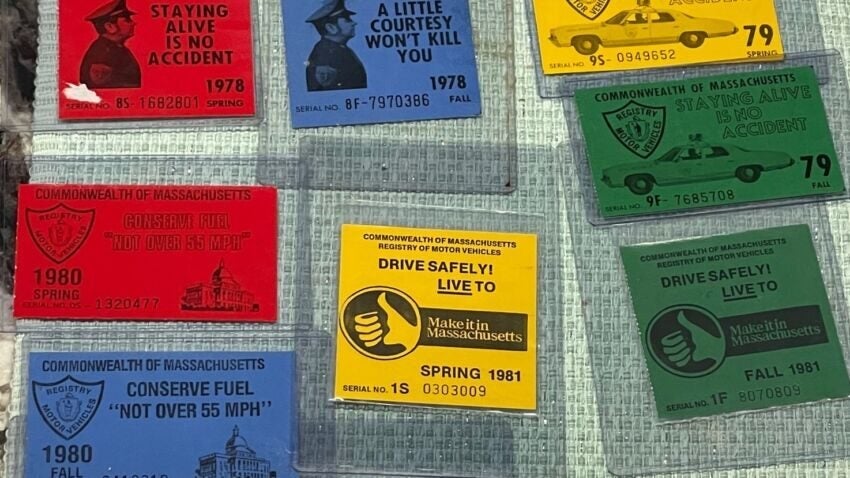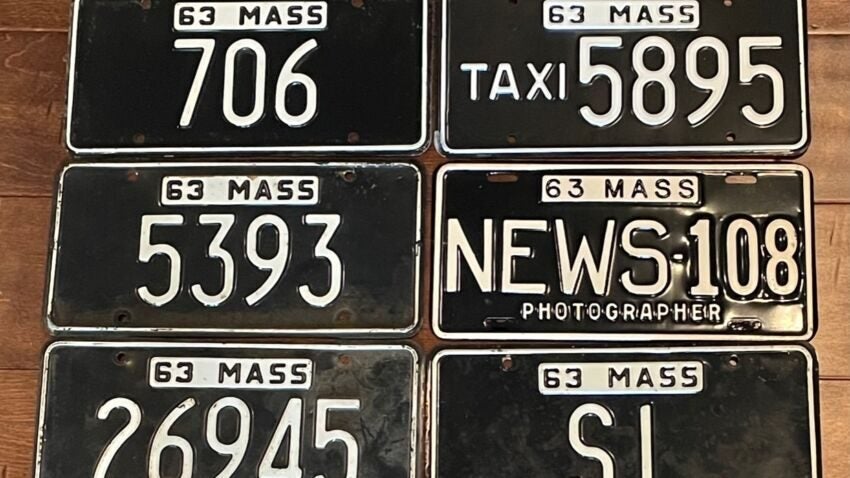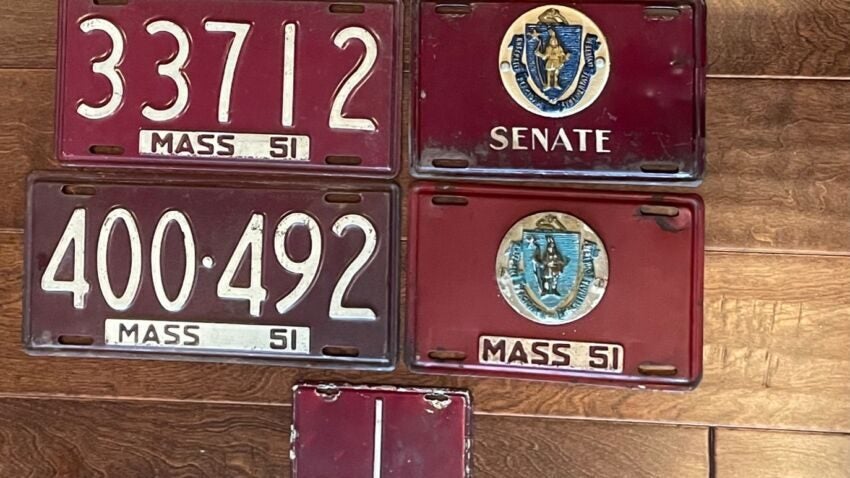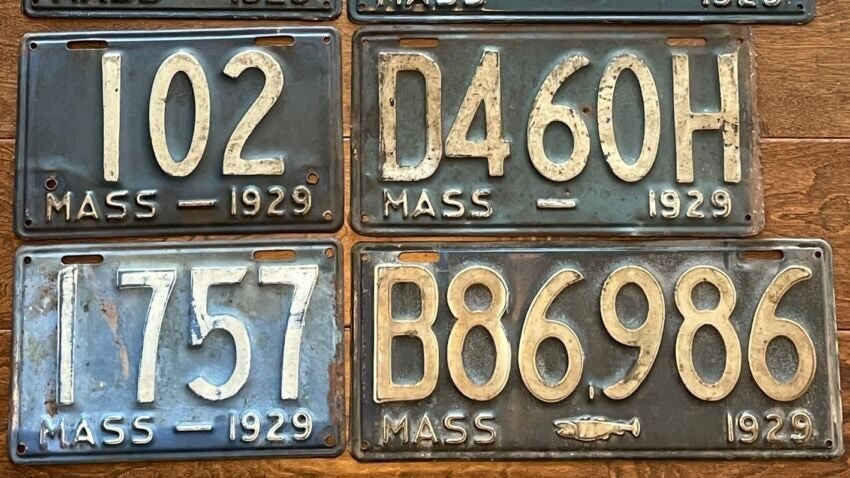 Porcelain was the go-to material for plates before roads were paved, Berg said, so most would end up chipped from rocks ricocheting off the gravel paths.
"In 1909, there was only about 90 miles worth of paved road in Massachusetts," he said. So "to find a mint porcelain license plate is worth more money than having one that's very obscure and has dents in it."
As materials evolved over the years, moving around 1915 from porcelain to iron to tin, so did designs.
In 1928 the registrar introduced the first picture to appear on a plate, the codfish, but it didn't look quite like it was supposed to.
And when local fishermen suffered one of the worst years in fishing history, they blamed the RMV for printing the wonky-looking fish swimming away from the word "Massachusetts" on the plate.
"Which is total lore, there is no truth to that story whatsoever," Berg chimed in with a chuckle. "The registrar was almost fired because of the controversy. It was 1929 they made a real codfish rather than an overweight looking guppy and it was only put on commercial plates, and commercial plates were the trucks that took fish to the markets and to Faneuil Hall."
From 1903 to about the '70s, the RMV had a list of the plate number, owner, their address, the serial number of the car, its horsepower, and the VIN number.
Berg said he has copies of the books dated between 1903 and about 1915.
"So if you have an old car and you want to find out who it was registered to call me up, send me an email and I'd be glad to tell you," he said. "That's kind of the cool history about some of the old license plates, you're actually able to look up and find out who owned these plates and what kind of automobile it is."
While living in Back Bay, Berg even discovered an old plate that was originally registered to the unit four doors down from his condo, so he knocked and showed the people living there.
After years of collecting, he began narrowing his search, focusing on select categories like plates with historical significance and single-digit or low-number plates, which are some of his favorites.
"I have Mary Jo Kopechne's license plate that was on her Oldsmobile when her car was dug up down the Cape, I have a couple plates from Houdini's car when they made the movie here," he said.
Yet his sports-related and political collections steal the show.
"The Boston Whalers were a hockey team that played in Massachusetts before they moved and were called The Hartford Whalers, and I have a bunch of those plates from the registry that were never issued, never given to players," he said. "I have Bobby Hull's. He was on the Boston Whalers, he autographed the back of the plate. I have some of the Celtics, Bruins … I have the plate that was given to Marvin Hagler when he won the middleweight championship in the 1980s … some of those sports plates are really what I really love."
Berg even has plates that were on former Gov. Michael Dukakis, and Gov. Edward King's cars.
"[The] Dukakis family grew up in Brookline. I went to Brookline High and he was the governor at that time and every time I would visit John, he would grab a plate off his father's car and not tell his father about it until years later," Berg said with a laugh. "Some of the political plates that I have are kind of the joys of my collection because some of them were only one offs."
Much of the history and stories behind the plate are hidden or undocumented and Berg said it often falls on the collectors to fill in the gaps as they learn more about the auto-world through the hobby.
"Who's gonna fill this place? I mean I'm getting old myself. I'm wondering, what am I going to do with all my plates?" Berg questioned.
He's always been eager to see someone open a state license plate museum that could showcase the little-known details of the Commonwealth's auto-world, where collectors could house photos of all their plates. Yet the longer he waits for that place to appear, the more he considers creating it himself.
Already, his next project is volunteering to update the history of Massachusetts plates for the Department of Transportation so more residents can learn about it and see photos via the state website. And Berg said he's always considered creating a display he could pitch to the Larz Anderson Auto Museum.
"That museum has always had a piece of my heart," he said, adding how he knows most of the people who run the location. "My real intention of 2021 is to make some displays that I can put in the museum to show some of the history."
Newsletter Signup
Stay up to date on all the latest news from Boston.com