Entertainment
An upscale indoor mini golf spot is coming to the Seaport
Puttshack will feature four indoor mini golf courses, plus a full menu and cocktail bar.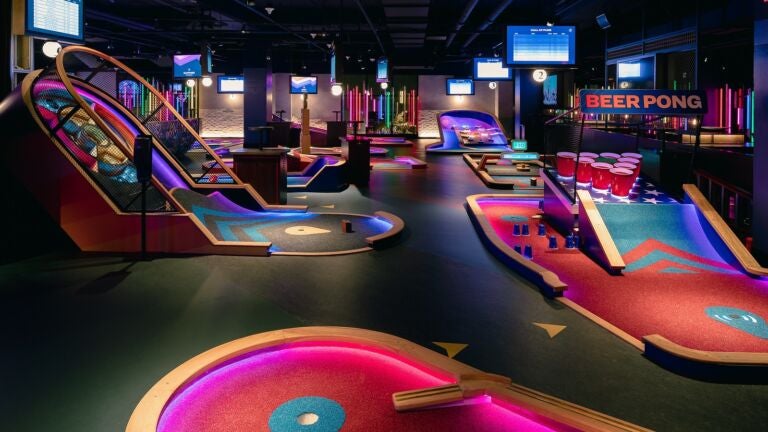 The Seaport, already home to several high-end clubs, is about to get some upscale golf clubs as well.
Starting in early 2022, visitors will be able to swing through Puttshack, an "upscale tech-infused mini golf experience" that will open as part of WS Development's 33-acre development off of Seaport Boulevard.
The 26,000-square-foot indoor space will feature four mini golf courses, with gameplay enhanced by the company's "Trackball" technology — an innovation that keeps score as you play and displays your progress on digital scoreboards. Each hole also features its own interactive game, with players able to test their beer pong skills during one hole and their trivia knowledge at another.
The Puttshack Boston space will have floor to ceiling windows and offer both a "globally inspired" dining menu and full cocktail bar, amenities that emphasize Puttshack's efforts to brand itself as a nightlife destination.
Founded by former TopGolf executives, the London-based company recently secured $60 million in funding for a global expansion, and has plans to open locations in Chicago, Nashville, and Miami to complement its first U.S. location in Atlanta.
"Boston has always been a priority market for us, and we can't wait to bring the Puttshack experience to such an energetic part of this historic city," Puttshack president Dave Diamond said in a press release. "As we look to expand coast-to-coast, this announcement is another huge milestone in our growth plans."
For now, Puttshack executives are keeping the exact whereabouts of the Seaport location close to the vest. The address listed on its website simply says "Block M," and a company spokesperson said in an email to Boston.com that a precise address would be shared "in the coming months."
As for what will be featured on Puttshack Boston's menu, our best guesses can be gleaned from the Atlanta location, which offers dressed-up American fare like cheeseburgers as well as apps like Persian Chicken Skewers, Korean Pork Bao Buns, and Wood Fired Thai Octopus.
Newsletter Signup
Stay up to date on all the latest news from Boston.com