Community
Tell us: Would you support more car-free streets?
Newbury Street will become a pedestrian-only walkway for two more Sundays in August.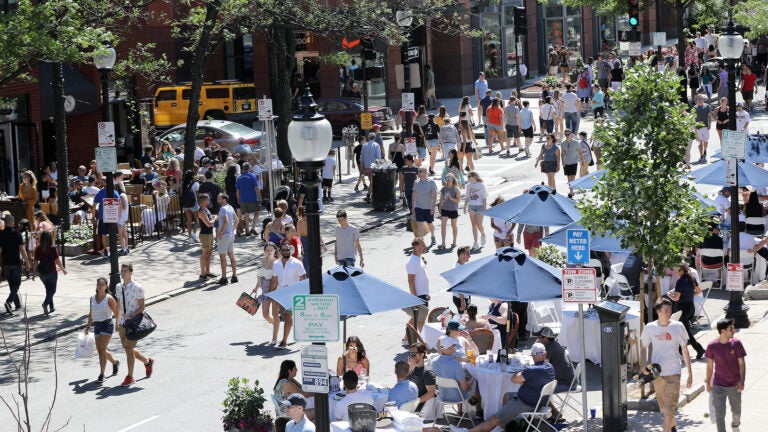 Boston has once again brought back its car-free days along Newbury Street.
On Sunday, Open Newbury Street returned where seven blocks along the Back Bay shopping stretch, from Massachusetts Avenue to Berkeley Street, close off to vehicles and become a pedestrian-only walkway. Two additional pedestrian-only days are set for Aug. 22 and Aug. 29, and possibly more this fall pending visitor feedback.
With the second day just around the corner, we want to know what our readers' thoughts are on Open Newbury Street, and pedestrian-only roads in their towns and neighborhoods.
For several years, the city has closed Newbury Street to motor vehicles for a few weekends in the summer. Boston is among other major cities joining the growing trend of putting pedestrians first.
In New York, 14th Street Busway was transformed to only allow buses, trucks and emergency vehicles to pass through from 6 a.m. to 10 p.m. San Francisco has also implemented a car-free zone on Market Street.
Case studies found that pedestrian-only roads benefit not only pedestrian safety but also impact the businesses around them. It increases commercial activity and promotes a healthier lifestyle for pedestrians as less cars are on the streets, according to Jen Fox at MIT Action Sustainability Corps. By looking at models in cities around Europe, such as Barcelona, Copenhagen or Amsterdam, pedestrian zones become much more beneficial for communities.
In a 2018 study, researchers found that Open Newbury days increased foot traffic more than 150% from the usual number of people on a weekend day. With COVID-19, the make up of Newbury has changed as well. Restaurants have also opened patio dining, which have increased foot traffic.
Boston has also committed to become a more pedestrian-friendly city as part of its Go Boston 2030 plan with an aim to create efficient and safer streets for residents.
With the next two Open Newbury days coming up, we want to hear from our readers: What do you think of Newbury Street's car-free days? What other street do you think should be car-free? Would you support a pedestrian-only road in your neighborhood or town? Let us know below or e-mail us at [email protected].
Newsletter Signup
Stay up to date on all the latest news from Boston.com