Arts
Calling all artists: The Esplanade's electrical boxes want you
The Esplanade Association is seeking up to four artists to design and install murals at the well-traveled green space.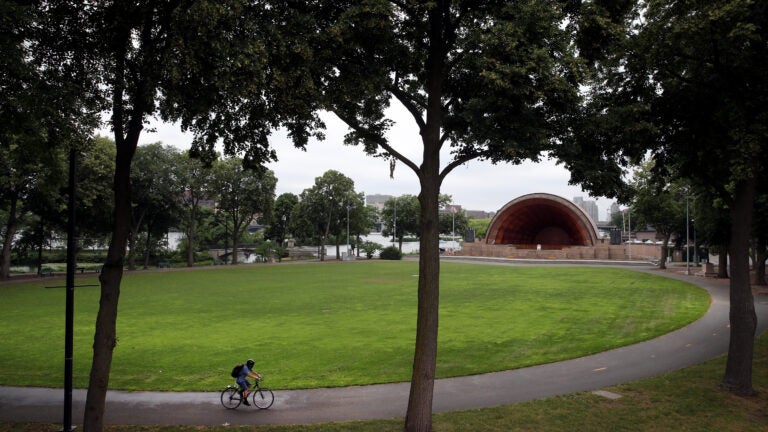 When it comes to public art, you can't get much more visible: Artists from Boston and beyond now have the chance to see their work adorn electrical boxes along the Charles River Esplanade.
The Esplanade Association is seeking up to four artists to design and install murals on the electrical boxes — with a particular focus on artists "from groups whose contributions and accomplishments have historically been underrepresented in the park."
The Esplanade Association (EA) is a privately-funded nonprofit organization that works to uphold the natural beauty of the Charles River Esplanade, sustain natural green space, and build a park community by offering educational, cultural, and recreational programs for the public, according to their website.
The association is partnering with the Massachusetts Department of Conservation and Recreation (DCR) and Volunteers Incorporating Black Excellence (VIBE) for this project.
The murals themselves will enhance the walls of four electrical boxes that measure and regulate electrical usage throughout the park; they will be expected to stay on display for up to three years.
Mural designs can reference any artistic movement, but should take inspiration from elements of the park itself, according to the association.
"Once completed, these murals and their joyful colors will enhance the Esplanade experience for millions of annual visitors," said Alison McRae, director of Projects and Planning at EA. "We can't wait to see what our local artists have in mind for the Charles River Esplanade!"
Prospective muralists and painters can learn more at esplanade.org/rfp, and must submit their Statement of Interest form by Jan. 21 to be considered.
"Thanks to our Fenway Community Benefits grant from the Boston Planning & Development Agency, winning artists will receive up to $200 in paint and materials, and a $500 stipend for their time and contributions," McRae said.
Artists interested in participating in this project can send their Artist Statement of Interest to Rachel Surette, Esplanade Association Operations Coordinator, at [email protected] by Jan. 21, 2022.
Newsletter Signup
Stay up to date on all the latest news from Boston.com