Arts
A visually stunning immersive art exhibit is coming to Boston
Tickets for "Imagine Van Gogh," which arrives in Boston this winter, are on sale now.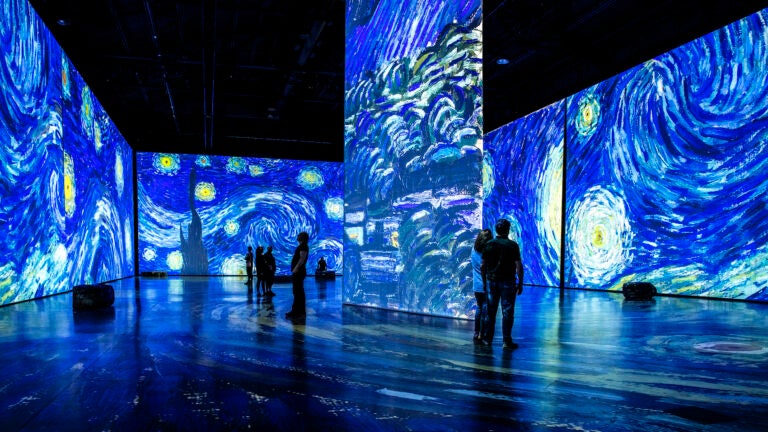 Ever dreamed of living inside a work of art, like a Harry Potter character or the woman from a-ha's iconic "Take On Me" music video?
Later this year, you'll be able to do the next best thing in Boston.
Starting Dec. 21, visitors to the SoWa Power Station will be able to experience "Imagine Van Gogh", an immersive exhibition that transports you into more than 200 of the Dutch artist's paintings.
Floor-to-ceiling visuals will bring Van Gogh's canvases to life, letting visitors stroll through "Starry Night" and other works spread across the Power Station's 24,000 square feet as the painter's brilliant hues shimmer on the floor below them.
Co-created by Annabelle Mauger and Julien Baron, famed for their work at Cathédrale d'images in Les Baux-de-Provence, France, "Imagine Van Gogh" exemplifies the artistic concept of "Image Totale," using multi-projection and immersive audio to let visitors "live and feel the creative energy" of Van Gogh, according to a press release.
"Original canvasses are expanded and fragmented, then projected into unusual shapes to emphasize the mesmerizing exaggerations and distortions of Van Gogh's work," Mauger said in the release. "Visitors experience their energy, emotion, and beauty like never before."
Featured in the Netflix series "Emily in Paris," the exhibit has sold more than 400,000 tickets across Canada in the past year.
"Imagine Van Gogh" will be at SoWa Power Station from Dec. 21, 2021, through Feb. 20, 2022. Tickets start at $33.99, and are now available on the exhibit's website.
For those interested in the immersive exhibit at SoWa, pay attention when purchasing tickets: A similar-sounding exhibit, called "Van Gogh: The Immersive Experience," is also selling tickets online and advertising them on Facebook. Promotional materials state that the show will arrive in Boston in September, but there is no venue listed.
One reader emailed Boston.com to say that after accidentally buying tickets to "Van Gogh: The Immersive Experience" instead of "Imagine Van Gogh," she attempted to get a refund. Thus far, she said, she has not received a response from Fever, whose advertising tactics she called "misleading."
"Part of the problem is that [Fever has] been posting on Facebook for weeks, saying to join the waitlist for tickets which would become available on Wed.," the reader wrote. "So, like many others, I was ready yesterday to purchase quickly – like signing up for vaccinations – you take what you can get!"
In an email to Boston.com, Fever Up spokesman Ollie Davies said that "Van Gogh: The Immersive Experience" would announce its "unique and inspirational venue" soon, promising a space of at least 20,000 square feet for the exhibit. 
Davies also said that Fever's customer service team has occasionally experienced delays in email responsiveness during the pandemic, but said that "our team is doing everything possible to ensure that all guests can make the most of their city and that their customer experience is the best possible."
"Van Gogh: The Immersive Experience" will feature projectors covering the walls and floor with Van Gogh's works, according to Davies. Fever's exhibit will also feature dedicated spaces where visitors can watch short documentaries about the painter, as well as a virtual-reality component.
"Projection and VR gives visitors the opportunity to become the eyes of Van Gogh, allowing them to dive into his mind by experiencing a day in his life, through a VR headset," Davies said via email. "This element differentiates this experience from other similarly immersive exhibits."
Get Boston.com's browser alerts:
Enable breaking news notifications straight to your internet browser.