Tell Us
Need a dress? Help us create a prom season guide.
Let us know if you've got prom dresses to sell or donate.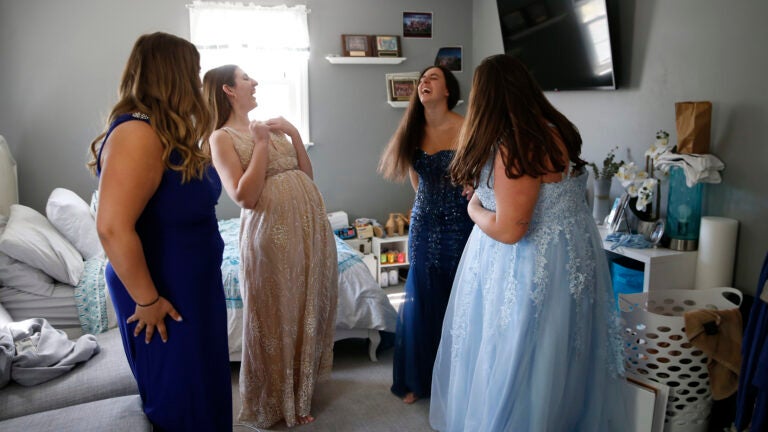 The end of the school year may be several months away, but if you've got high school juniors and seniors at home, it's a pretty safe bet that they're already starting to think about what they'll be wearing to prom.
After years of the pandemic disrupting the typical end-of-school-year rituals like prom and graduation, it's looking like students will finally get to enjoy their proms, as vaccination rates among school-aged children continue to rise.
As exciting as prom season can be, it can also put a financial strain on many families aiming to keep up with pricier elements of the tradition like outfits and accessories, makeup, hair, tickets, and transportation. All told, overall spending for teens in the Northeast region of the country averaged $700 for teens, according to Yahoo Style's 2017 Prom Across America survey.
Luckily, there's never been a better time to look for cheaper alternatives to expensive prom dresses. Facebook Marketplace and online resale sites like Depop and Poshmark are flooded with secondhand prom dresses in recent months, and here in Massachusetts, there are some services that are extending a helping hand to high school students in need with free or discounted prom dresses.
Belle of the Ball is a dress collection drive run by Anton's Cleaners, a Boston-based dry cleaning service. Since 2005, the company has been collecting, cleaning, and distributing prom dresses to high school juniors and seniors. The 2022 dress collection is currently ongoing and you can ​donate prom dresses at any Anton's Cleaners, Enterprise Bank, or Jordan's Furniture in Boston through March 20. High school students in need of a dress should be referred by a guidance counselor, teacher, church leader, or social service representative and can "shop" for the dress on March 26.
Massachusetts has a chapter of the national prom dress non-profit at Plymouth South High School. Dress donations can be dropped off or mailed to the high school, at 490 Long Pond Road in Plymouth, which works to distribute the dresses to high school students in need. Becca's Closet also accepts shoes that can be worn with prom dresses and other accessories.
Jackie's Boutique is a free dress exchange program that was established in honor of Jackie Gray, a Milford student who was killed in a car accident in 2016. The dress exchange allows students, alumni, and parents to borrow a dress from their collection, exchange their own dresses for something new, or donate dresses both new and second-hand.
This prom resource was born out of the pandemic after its founder, Julie Costa, bought a handful of prom dresses to donate to local schools. When COVID canceled the proms, Costa kept the dresses and took on donations from others both in state and nationwide to start a dress rental business. Donations are accepted at the shop at 47 Broad St., Suite 101 in Bridgewater. Students and parents looking to rent can find more affordable dresses in both modern and vintage styles.
As we get closer to prom season, we want readers to help add to our list of where to donate and find prom outfits. Do you have a prom dress you would like to sell for cheaper than the expensive listing prices? Do you know of a consignment store or donation service that could help high school students find their dream prom outfits and accessories?
Tell us what prom season resources you'd like to share by emailing us at [email protected] and we may include your response in an updated version of this article.
Are you offering any helpful resources for the 2022 prom season?