Readers Say
We asked for the best thrift shops in Greater Boston. Here are your favorites.
More than 200 readers recommended 43 local stores.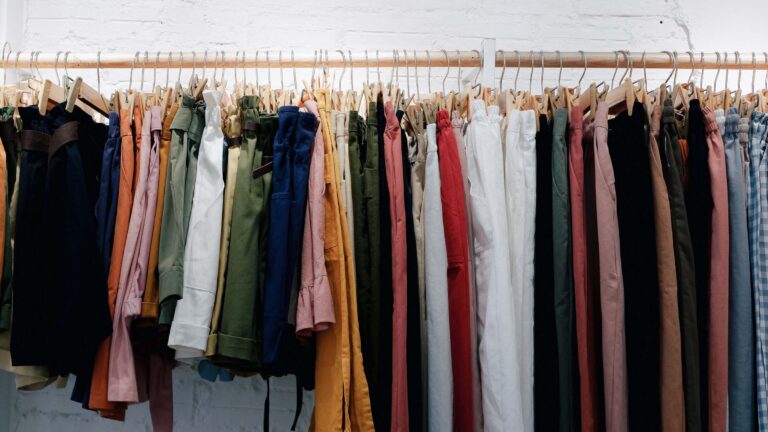 While some may be shopping amid supply chain shortages at big retail stores this holiday season, others are shifting their attention (and dollars) to the secondhand market.
With effects from a pandemic still ongoing and increased interest in environmentally responsible living, there's a renewed appeal to shop previously owned goods — even in the luxury market. Items sold at resale stores are readily available and curated, meaning they're less expensive but maintain good quality. Though thrift shopping was once highly stigmatized, customers are growing more comfortable buying used instead of new. A 2021 "Secondhand Holiday" report released by online marketplace Mercari revealed that 77% of American adults expect to buy at least one item from secondhand stores this holiday season.
So we recently asked readers for their favorite thrift shops in Greater Boston and received more than 200 votes and 40 shop recommendations in our survey and on social media.
Ahead, we feature the top five shops from readers, a full list of reader recommendations, and an interactive map for your next thrift shopping adventure.
1. Boomerangs (multiple locations)
With locations in Jamaica Plain, Central Square, and South End, Boomerangs is a popular non-profit thrift store owned and operated by AIDS Action. The 25-year-old shop features new, used, vintage items from high-quality apparel and accessories, home decor, books, and jewelry. All proceeds support programs and services to help prevent new HIV infections and serve those living with HIV/AIDS in Massachusetts. One reader commented on Instagram: Boomerangs is a "perpetual fave."
Stock up on one of their recently teased holiday sweaters soon to hit their Jamaica Plain and Central Square locations.
2. Covet (multiple locations)
Opened in 2013, Covet serves as a neighborhood consignment shop where owner Hanadi Hamzeh aims to give shoppers a "thrill of the hunt" experience with a curated collection ranging from affordable to high-end and vintage clothing, shoes, and accessories. You can shop at one of Covet's two locations in Southie and Beacon Hill, or catch them at their seasonal pop-up on Nantucket.
Check out Hamzeh's latest feature of items to shop in-store.
The Garment District is a multi-story retail clothing store with a wide variety of new and used styles. Inside the 12,000-square-foot store, shoppers can browse the entire collection of 40,000 unique items, dig through their By The Pound section, or find your next favorite style by decade. You can even get yourself a pair of classic Western cowboy boots! One commenter on Instagram wrote, "[C]ame here to say Garment District, saw it's already here, as it should be."
Check out their recent virtual tour of the store.
On Again Consignment specializes in secondhand goods from luxury brands. You can find high-end labels from Louis Vuitton, Chanel, and Yves Saint Laurent at affordable prices. On reader wrote, you can get "a steal" at the Charlestown spot. Another complimented the in-store service. They wrote, "the owner is super sweet" and "easy to deal with."
Stay warm with these colorful altered hats made from up-cycled authentic Louis Vuitton bags.
5. The Green (2 & 4 Brington Rd., Brookline)
Founded by designers Samantha Pratt and Hannah Deutsch, The Green is a new brick and mortar from the duo who also run full-service interior design firm Pratt & Deutsch Interiors. The shop opened in May and offers a curate collection of interior decor from tableware, candles, and succulents for your home. "This women owned business focuses on beautiful, sustainable home decor and furnishings," Lindsey M. from Brookline wrote. "They bring new life to old finds and repurpose textiles and materials found in nature. "
Decorate your tree this year with one of their unique glass ornaments.
Check out the full list and interactive map of the thrift shops recommended by Boston.com readers.
---
Where to go thrift shopping in Greater Boston, according to readers
2nd Hand Rose of Needham (937 Great Plain Ave., Needham)
40 South Street (40 South St., Jamaica Plain)
Apple of My Eye (377 Franklin St., Melrose)
Blessing Barn (multiple locations)
Bobby From Boston (multiple locations)
Boomerangs (multiple locations)
Buffalo Exchange (multiple locations)
Chic Boutique Consignments (multiple locations)
Covet (multiple locations)
Downtown Exchange (53 E Main St., Southborough)
DVSTY Men's and Women's Consignment (713 Centre St., Jamaica Plain)
Found Consignment (255 Elm St., Somerville)
Global Thrift (322 Moody St., Waltham)
Goodwill Boston (multiple locations)
Great Eastern Vintage (multiple locations)
Gypsy Hill Supply (pop-up only)
High Energy Vintage (429 Somerville Ave., Somerville)
Keezer's 1895 (1738 Massachusetts Ave., Cambridge)
Lilise Designer Resale (7 North Main St., Concord)
Make & Mend (26 Horace St., Somerville)
Mayflower Vintage (Online+Pop-ups)
My Sister's Closet (268 Main St., Stoneham)
New England Open Markets (Multiple locations)
On Again Consignment (233 Main St., Charlestown)
Pali Thrifts & Gifts (77 Prospect St., Waltham)
Rada Boutique (multiple locations)
Raspberry Beret (multiple locations)
Revolve Consignment Boutiques (multiple locations)
Salvage Angel (83 Morse St., Norwood)
Salvation Army (multiple locations)
Savers Thrift Store (multiple locations)
Sea Again (14 Dock Square, Rockport)
Sister Thrift (multiple locations)
SoWa Vintage Market (450 Harrison Ave., Boston)
The Drift Collective (12B Fleet St., Portsmouth)
The Garment District (200 Broadway., Cambridge)
The Green (2 & 4 Brington Rd., Brookline)
Thrifty Threads Thrift Store (210 Harvard St., Brookline)
Tin Box Jewelry (Multiple locations)
Urban Renewals (122 Brighton Ave., Allston)
We Thieves (1307 Cambridge St., Cambridge)
Witch City Consignment Thrift (301 Essex St., Salem)
Worthy Girl (276 Cabot St., Beverly)