Readers Say
'Got engaged out in front': Readers share their favorite dishes, memories at Sullivan's Castle Island
"Truly a magical place."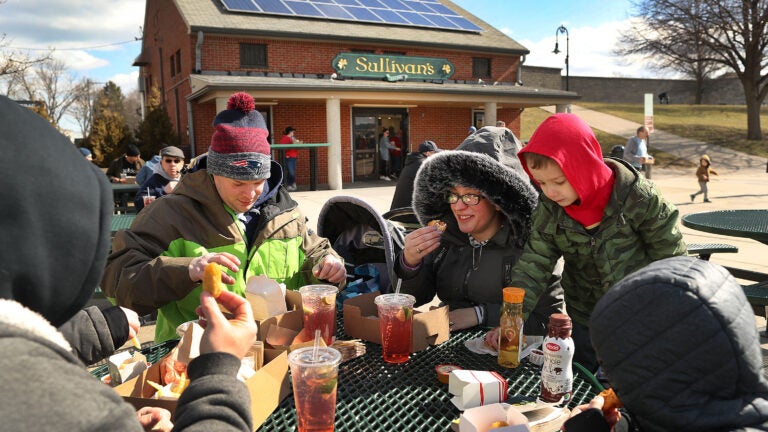 Sullivan's Castle Island has been part of the South Boston scene since the 1950s — and will soon be expanding.
The fast-food restaurant, which also has a spot in Hub Hall, plans to open a new Hanover location in December or January.
Coming to the family-owned restaurant is a "rite of passage," according to owner Brendan Sullivan, where people once visited with their grandparents and now take their own children.
We asked about your favorite memories of Sullivan's and what the eatery means to you. It turns out readers have been going for ages. Some go for the burgers and hots dogs, others emphasized the history and atmosphere perfect for meeting with friends and family. One reader on Twitter was happy about the restaurant's expansion to Hanover, but wrote "[T]here's still no Sullivan's like the Sullivan's in Southie!! You have to be on the water and the smell of the salt air and battling the seagulls to really appreciate the ambience of the whole area!!!"
Scroll ahead for more reader reflections on Sullivan's Castle Island and their favorite memories and dishes at the iconic spot.
Responses may be lightly edited for clarity.
Readers' favorite dishes, memories at Sullivan's Castle Island
"Eating at the shack and mingling with the workers and customers; enjoying the whole day there and at the beach."

—Shawn B., Boston
"Visiting with my mom after a doctor's appointment and getting grilled cheese, french fries, and the all important orange sherbet in a sugar cone with jimmies!!!"

—Lori C., South Boston
"Bringing my two kids, Sean and Kelly, with my dad. They would play at Castle Island and then we would get the most delicious cheeseburgers, fries and coffee shakes. One of my favorite memories."

—Mary M., Braintree
"I was living in Dorchester at the time and the day after the Boston Marathon bombing. I just went to Castle Island and enjoyed looking at the city skyline while eating some Sullivan's. I've since moved away, but that will always be a huge memory of my time in Boston. Just enjoying this beautiful city after it had been rocked to its core."

—Alex G., Virginia (formerly Dorchester)
"The lobstah roll, maybe the first of the season, and the clam strips. Keeping them safe from the seagulls."

—Judi, North Easton
"This [opening at Hanover Crossing] is good news. We lived in South Boston for years. My girls grew up on the beaches. We would walk or bike down to Sullivan's, have a bite to eat or have ice cream. As they married, the grandchildren had the same experience. Now we have a great-granddaughter, and she has gone to visit.

Also, my mom and mother-in-law spent part of their last years visiting this beautiful spot. You always met childhood friends. Truly a magical place."

—Paul and Janet L., Maine
"Hot dogs. They're going to have hot dogs. That's what Sullivan's is known for. HOT DOGS. Grandparents couldn't afford lobster rolls."

—Anonymous
"I have many stories about Sullivan's Castle Island. My husband of 50-plus years [and I] got engaged out in front of Sullivan's.

My dad in his older years would ride over to Sullivan's with his lady friend in his 1963 VW Bug. They would drive around the parking lot until they could find a spot right in front of the benches outside of Sullivan's."

—Ellen H., East Falmouth
"Going to Castle Island on the 4th of July, watching the Constitution turn around, and of course, eating at Sullivan's all day. Can't wait to see Hanover Crossing restaurant."

—Rosemarie, Hanover
And if you're unsure of what to order while visiting, take a recommendation from Bob of Dorchester, "Hotdog and french fries, small coke."
Sign up for The Dish
Stay up to date on the latest food news from Boston.com.