Readers Say
Do you plan to ski or snowboard this season? Let us know.
It's almost time to hit the slopes.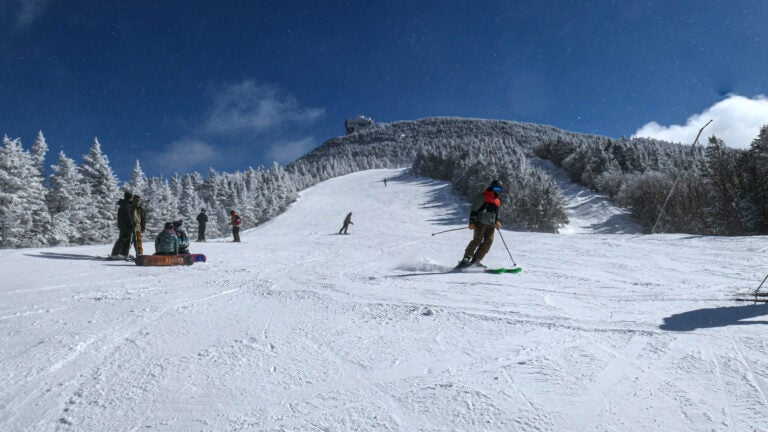 With the first snowfall of the season last Friday, and more on the horizon later this week, you may be starting to dream about hitting the slopes.
Many ski areas across New England are open for season, including Wachusett Mountain in Massachusetts which kicked off the ski and snowboard season last weekend.
If you are a dedicated season pass holder or just looking forward to a long weekend of fresh powder and groomed trails, we want to know the ski area you are most looking forward to visiting this season.
Are you planning to ski the trails at Mount Snow in Vermont? Two and a half hours from Boston, the mountain was recently named one of the 30 best ski resorts in North America by Conde Nast Traveler. The travel publication called it a "family-favorite" ski resort, but also offers terrain parks and tree skiing for the more advanced skiers and riders.
Perhaps you're a regular at Loon Mountain in New Hampshire, and looking forward to their new high-speed chairlift? Called the "Kanc 8," this eight-person modern chairlift comes with heated seats and a commute to the mountaintop in under 4 1/2 minutes.
If you're trekking to Maine for backcountry (or sidecountry) courses, Sugarloaf may be your destination. The largest ski mountain in the state, Sugarloaf offers skiiers and riders a journey on the snowcat to Burnt Mountain and Brackett Basin for a true wilderness experience.
Depending on the area, resorts will have differing COVID-19 safety policies, such as wearing masks indoors. But with the discovery of the new variant last week, we also want to know how Omicron may be changing your plans for the ski and snowboard season, if at all. Will you be taking any additional precautions?
Tell us what your plans are for this upcoming ski and snowboard season. Do you have your season pass or still considering which weekend to book? Are you trying a new mountain this year, or will you be going to your usual resort? Share with us in the survey below or e-mail us at [email protected].
What are your plans for this upcoming ski and snowboard season?
Newsletter Signup
Stay up to date on all the latest news from Boston.com