Readers Say
Meet the cocktail slinger behind a Southie bar with a killer rooftop view
Six West bartender John E. Rodriguez shares his reopening experience, and being reminded of "why you fell in love with the industry in the first place."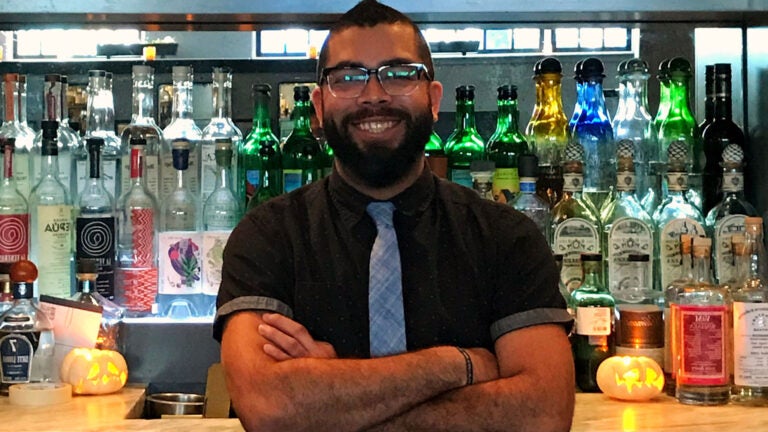 When Hurricane María hit Puerto Rico in 2017, John E. Rodriguez's life took an unexpected turn.
As a bartender in Puerto Rico, Rodriguez was offered an opportunity to be relocated to Boston to keep working amid the immediate aftermath of the hurricane. He landed at The Hawthorne for a three-month stint.
"It was an eye-opening experience learning all about classic cocktails," he said.
Rodriguez fell in love with the bar program, and four years later, the bartender is still in Boston, learning and creating unique experiences for his guests. These days, you'll find him behind the stick at Six West in South Boston.
On Thursday, Rodriguez joined the Cocktail Club for summer stirred cocktails, mixing a sazerac and a tropical Old Fashioned. We spoke with Rodriguez about Six West, the cocktail scene in Puerto Rico, and what he'd like to see in Boston more than the return of happy hours.
What got you hooked in the industry, and what has kept you in it?
I started in Puerto Rico back in 2004 as a busboy for a chain restaurant, looking to pay my way through college. As often as I could or needed, [I] would pick up bartender shifts at my brother's bar. Nothing fancy, but a way to get to know the bar scene better.
Being part of the entrepreneurship program in college, we developed an award-winning business plan to promote ecotourism activities and culinary experiences for tourists coming to the island. I've always been drawn to service and creating experiences for my guests. … With the cocktail scene rising, I saw an opportunity to highlight bartenders by creating a competition: The Bartender's Face Off. We wanted to provide a space where bartenders can come together, be creative, and share ideas, while also giving the public a chance to voice its opinion and contribute to the evolution of the local bartending community. In 2017, with over 30 events done around the island, we started expanding and doing events in Miami, Fla. It took an unexpected turn as Hurricane María hit Puerto Rico in September that year.
After María hit, Don Q (a local rum distillery) and Lush Life Productions offered help relocating bartenders in different areas of the U.S. Sixteen bartenders headed out to keep the cash flow and help our families back in PR. I ventured out to Boston, where I only had a contact for work and a bed to crash "for as long as I needed," thinking it would only be a three-month journey.
I started working at The Hawthorne in Kenmore Square. I fell in love with the bar program, the educational aspect, and the amazing crew who was leading it. It was an eye-opening experience learning all about classic cocktails and digging even more into the obscure cocktails that not many people know about. With a resource of more than 500 cocktails — that needed to be known and done anytime — I realized that my three-month journey was going to take a bit more time. … Four winters later, I'm still hanging around the Boston area. I work as a brand ambassador for Santa Teresa, a Venezuelan rum company, and you can find me slinging cocktails at Six West in South Boston, still creating experiences for all my guests.
If you were a cocktail, what would you be, and why?
I see myself as an aged rum daiquiri with a dash of bitters. Pretty simple to make, but full of flavor and layers of deliciousness.
What has your experience been like since bars reopened?
It's been a re-learning experience. The industry has always worked the cleanest way possible. Disinfecting all common areas, always washing our hands, carefully handling the food and cocktails when being created, etc. More than that it's been a reaffirmation of remembering why you fell in love with the industry in the first place: to create an experience for our guests, to take care of them, and make them have a good time. Little by little, visit after visit, they become friends that become family soon after that. We like to take care of our others and see them happy.
Do you have any thoughts on whether we should bring happy hour back to Boston?
Bostonians, like Puerto Ricans, will always find a way to have their happy time and with all the different transportation methods, it has created a safe way to get home. I'm not against it, but more than happy hours, I would like to see cocktails to-go be a [permanent] thing. It creates an extra line of revenue for the bars and restaurants while having our guests experience our confections in the commodity of their home.
Can you talk about a cocktail or entrepreneurial venture you are particularly proud of?
The Bartender's Face Off: What it started as a friendly competition between George Jenich and I — to see who could create their best cocktails and have our friends come in and taste them — turned out to create more than 30 events throughout the years. We had the opportunity to host events in different areas of Puerto Rico, Miami, and Boston … We developed a platform where bartenders, brands, and venues can be showcased before both the general and service industry crowd. The turning point of the event — and what I'm more enthusiastic about — is when we started raising money for the less fortunate after the passing of Hurricane María in Puerto Rico. … The industry got together and helped out without any questions.
For someone venturing into Southie, what's the best way to enjoy a night out at Six West and the surrounding neighborhood?
Sunsets! Come in for a couple of drinks with your crew around 7 p.m. and watch the sun set behind the skyline of the city. Cocktails taste better with a view!
How can people support you and your colleagues in the service industry right now?
Keep supporting your local restaurants. The mom-and-pops! If you're not able to visit personally, order take-out. Have your favorite dish and cocktails at home.
Need weekend plans?
The best events in the city, delivered to your inbox.